Tips on How to Sleep on an Airplane
Tips on How to Sleep on an Airplane
There's nothing worse than arriving at your destination tired and grumpy, but falling asleep on airplane can prove to be a challenge. From crying babies through to uncomfortable seats, grabbing a kip can sometimes feel impossible. But our tips on how to sleep on an airplane will soon see you nodding off. You can get ahead of the jet lag and arrive at your destination relaxed and ready to explore.
What is the best way to sleep on a plane?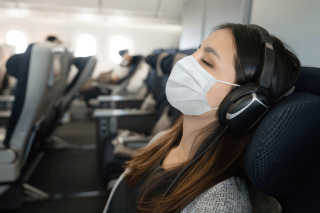 Top hacks for airplane naps
Depending on your flight time, you may want to calculate when the meal service is. Remember that sleepy feeling right after a full meal? Although most long-haul flight services provide meal services, for shorter haul flights, you may even consider getting a bite to eat before you go onboard or bring along some snacks with you. Also, let the cabin crew know that you're planning on sleeping so they don't disturb you. Ideally fasten the belt outside of your blanket so it's visible to the crew as well. This stops them waking you up during turbulence (provided you can sleep through it). Make use of the seat recline option, but be courteous. It's unreasonable to expect the person behind you to sit behind a reclined seat for the entire flight, especially during normal 'awake' times.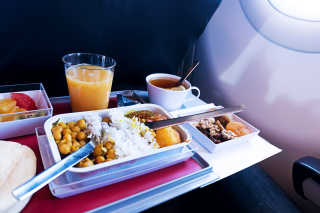 Upgrading your ticket
If your wallet allows, upgrade your flight ticket if you can. Most airlines which has First and Business Class have fully recline (flat-bed) seats. First and Business Class might be pricey, but it's worth looking out for upgrade deals that could literally make the difference between sleeping or not. When checking which airline to fly with, also check to see if they have a Premium Economy Class as these seats will also more reclining and seat pitch between seats, increasing your comfortness onboard. Another option is to take advantage of frequent flyer programs as it provides a nice opportunity to add points, some even from daily spendings, and in return redeem those awards points as 'upgrades'.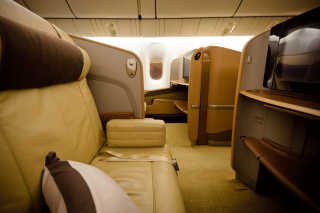 What can I bring to help me sleep?
Pack a lightweight neck pillow and blanket. Some airplanes provide these and others don't, but extra ones will never go amiss. You can buy inflatable versions that don't take up much space when not use. Invest in warm, comfortable clothing. Most people don't realise how cold it gets in the air! A pair of thermal socks, in addition to compression socks, will keep your toes toasty. There are also three small, but vital items which can be the main difference between sleeping and not: sleeping pills, ear plugs, and an eye mask. These three are your sleeping mantra.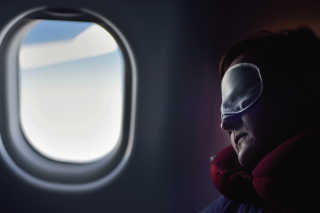 Does it matter where I sit?
Yes, yes and yes! Whilst the aisle seat offers legroom and easier access to the toilet, a window seat is vital if you want to sleep. Securing a window seat means you have something to lean your head against. Avoid the exit seats as they may offer extra legroom, but many of them do not recline, including a fixed armrest. Remember the last row also might not recline as well. Depending on the airline you travel with or the fare basis code of your ticket, choosing the seats you want might mean paying extra or not allowed until 24 hrs to departure (during online check-in). However, on long haul flights it's often possible to simply choose your seat when you book at no extra cost. Seats are selected on a first-come, first-served basis, so it might be harder to get the seat you want if you've made a last-minute booking. Be sure to understand the configuration of the aircraft and ask airlines if you have further questions regarding your seating arrangement.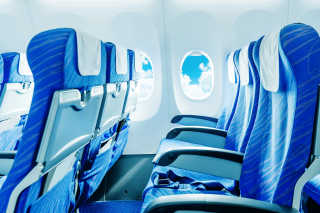 Can I sleep on the floor of an airplane?
It's not considered acceptable to sleep on the floor of the airplane. Not only is it fairly unhygienic, but you'll endanger your own safety and the safety of other passengers. If you attempt to sleep on the floor of the airplane you will probably be asked to return to your seat by the cabin crew, so it really isn't worth attempting.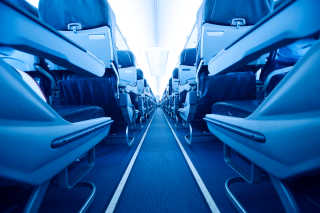 Can I use empty seats as a bed?
If you're lucky enough to find yourself on an otherwise empty row, there's nothing stopping you from lying down across the seats. If however, you're sharing the row with one other passenger and there remains one empty seat between you, it would be rude of you to take it too without speaking to the other passenger before lying on it. If your row is full, but an empty row is located nearby, you can speak to the cabin crew about moving seats. Be respectful of anyone travelling with young children or who has a disability or health condition as they may need this space more than you do. If you do decide to lie across an empty row or seat, remember that you MUST sit up and put your seat belt on when instructed. Also, at the time of check-in, you can ask the airline staff how full the flight is. Although if the flight is not full, the agent may try to arrange at least an empty seat next to you (if not both), but remember that nothing is guaranteed.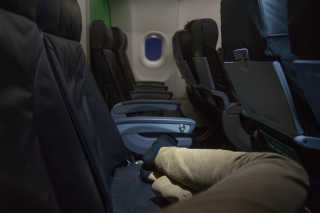 Remember these travel tips for your next trip
Getting some sleep on an airplane is vastly more important on a long-haul flight than a short haul flight, though you might find having a nap calms your nerves or makes the time go faster. Especially if you arrive during the day time at the destination, try to avoid that sleepy feeling by getting some sleep onboard.
Wherever in the world you're planning on going, book your flight with CheapTickets.sg for our best fares on a wide range of flights.
---
Want to read more travel tips?