Tips to Meet New People While Solo Travelling
Meeting new people while solo travelling
Approaching a person outside of your comfort zone some may be quite difficult. Even more when travelling solo. You can be social, outgoing and talkative or shy, introverted and reserved, it will still be hard. But don't worry, we are here to help you make your travels more fun and memorable! Ready to make new friends?
Here are the 3 most important tips you will need to successfully approach a person while travelling solo!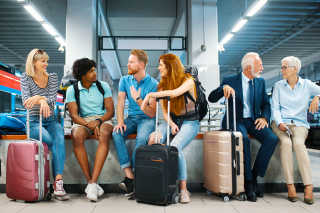 1. Choosing the right place
Not everywhere is the best place to approach a person. For example, if you're walking down the street and see someone interesting, maybe that is not the best place (or time) to go and say hi. Normally people tend to be more alert, alarmed of their surroundings, and vulnerable as anything can happen while they are walking. So even if you go with your best intention, most of the people will have their shield on.
Instead here are the best places to approach someone:
Cafés: not restaurants... In cafés, people are more relaxed (obviously, they are drinking coffee which helps with relaxation...) and they are also more open to start a conversation with someone they don't know. Restaurants may not be an ideal setting mainly because some people don't want to be disturbed while eating and may respond a bit ruder than you might like, which can make you lose hope on starting a new conversation with someone else
Museums & art galleries: here you already have a topic in common. While visiting a museum or an art gallery, people can be more inclined into sharing their thoughts about the art in question, and so they will accept you with open arms
Bookstores & libraries: same as at museums & art gallery, you already have a hobby in common, so it's easier to go up to someone and begin a conversation. Check out some of the most beautiful libraries in the world to visit.
Bars: as well as cafés, people go to bars to relax and have fun, which makes people more welcoming to strangers. It's good to remember that in bars you can find a bit of everything (more than in cafés & museums), it would be better to arrive early so you meet people that are just starting to have fun and are not very intoxicated with alcohol
Trains: if you're taking long train rides, try talking to the person next or in front of you. You might be going to the same destination so why not give it a try? Even more when travelling witn Interrail, you could continue part of your Europe adventure together.
Hostels: the best thing about hostels is that you have to meet people, as you have (if you want) to share a room with 1 to 3 more persons. Have you ever stayed in a hostel before? If not (and you're the adventurous type), it's a nice recommendation for solo travelers as you can meet more people like you.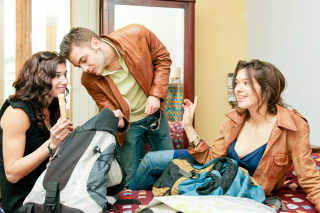 2. What topics to talk about
Now that you know where to meet people, it's time to decide the topic you're going to approach them with... The easiest one to start a conversation is by first explaining that you're traveling solo and want to meet new people. It's easy and straightforward, but it also takes a lot of courage as you're letting them know right away that you are alone. So let's try and see what are some of the other best topics to talk about.
3. And lastly... getting the courage!
Now that you know where & about what, you need to find the courage to actually start the conversation! What always works best is to remind yourself that this is a once in a lifetime opportunity. You might return to the country one day but it's not going to be the same. So maybe do a little ritual before going up to someone to prepare yourself mentally. Some might not need it and just go for it, but for others for whom it's harder, preparing yourself will give you the courage you need to do it.
Remember, this will be a once in a lifetime opportunity to meet some amazing people!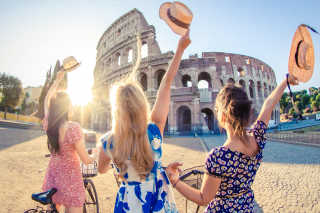 Are you ready to start your solo adventure? Start by checking out the best flights for you with CheapTickets.sg! Get ready to step out of your comfort zone and create memorable relationships!
---
Need more tips about solo travelling? Check out our blogs!