Unaccompanied Minors Flying Alone
Unaccompanied Minors Travel Guide
Sometimes it's unavoidable that your child has to fly without you. For instance, if the parents are separated by long distances or if the grandchildren are planning a visit to see their relatives abroad, allowing children to board flights on their own is an option that may be available by the airlines. The first time this happens, the experience can be nerve-wracking for both you and your child, but choosing a sympathetic airline with friendly staff makes all the difference to the journey.
There are some regulations you need to be aware of when planning travel for unaccompanied minors. Our guide should help you navigate these for a stress-free flight.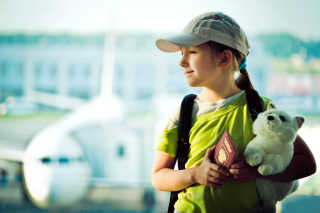 How old does a child have to be to fly alone?
Depending on the airline, the age children can travel without an accompanying adult on flights will vary per airline. Generally, an unaccompanied minor (UMNR) is any child between five and 11 who is travelling without a parent, guardian or immediate family member. For them, an unaccompanied minors service will need to be booked. Most airlines which offer a chaperone service do not provide support service to children younger than five. For example, British Airways and KLM permit children aged 14. On Lufthansa and Norwegian Air flights, children can travel without an adult from the age of 12. On All Nippon Airways, unaccompanied minor service is only provided to children flying on international routes between 5 to 11 years old. On Singapore Airlines, unaccompanied minor service is available for children age 5 to 17 years old. As the rules vary per airline that offers this service, if you have a preference on using a particular airline, we advise you to check the rules and regulations set by the carrier.
Which airlines offer an unaccompanied minor service?
Airlines with major long-haul routes that offering the service, include Singapore Airlines, United Airlines, Virgin Atlantic, Emirates, Air France, and American Airlines. Where flights require transfers or stopovers, unaccompanied minor services are not usually available. Bear in mind, the cost of booking a chaperone can be equivalent to an adult fare or more.
How do I book an unaccompanied minor?
You will need to check with your airline to see if your child meets the unaccompanied minor age requirements. Many airlines have a limit on the number of chaperoned children allowed on a flight so book as far in advance as possible. With most airlines, you either have to book the flight directly with their customer service team or sometimes through a travel agent depending on the age of the child. Have your child's passport details to hand and the full contact details of whoever is dropping them off at the airport and meeting them when they land. Airlines may also ask to fill out other supplementary documents or forms to the individual reserving for this special service.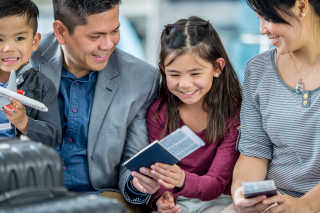 Do I have to prepare anything for the airline before departure?
To ensure a safe and smooth journey for your child, fill out all the required documentation and carry proof of their identity as well as your own ID to the airport. The documents required may vary slightly from airline to airline or from country to country. You will need to show a copy of any documentation at check-in and at security. Your child must have a passport for international flights and some form of ID for domestic flights. A consent form for minors travelling abroad will also be required at security and passport control. This is to prevent one parent from abducting a child from the other parent's country. Check that the airline has a member of staff on board who speaks your child's language and ensure your child has appropriate travel insurance in place. It is also a good idea to pack some toys, snacks, maybe a teddy bear (or any plush doll) or comfort blanket for younger children or headphones and a mobile device for older children.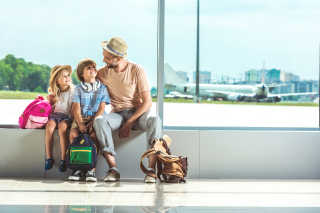 Can I go to the boarding gate with my child?
The adult designated on the forms must accompany the child to the airport and check them in at least two and a half hours before the flight departs. They must have valid identification on them. Once a child has been checked in, the adult who brought them to the airport should remain until the flight has departed. If their flight is a domestic one, you may be allowed to accompany them to the gate. Please note, however, that the adult accompanying the child to the gate, will not be allowed to board the aircraft due to security reasons. On international flights, also for security reasons, you are not allowed to go further than airport security. Make sure young children are aware of this and are prepared to say goodbye to you here. An airline staff will escort the child from the gate to the plane, the flight attendant will also check any paperwork before helping your child to settle onto the plane (also this is done before other passengers start to board).
What happens during the flight?
Unaccompanied children are usually sat close to the cabin crew areas where they can have a close watch on them. This also means they will be near the toilets. During the flight, the cabin crew will check on your child's welfare regularly and, where appropriate, help entertain them (especially on longer flights). Although not an issue for longer international flights, check whether in-flight food is included in the price. If not, make sure children have some cash on them to buy food and drink. If meals are included, you should be able to specify any dietary requirements up to 24-hours before the flight departs. Depending on their age, may be asked to give consent for your child to access the flight's TV, film, music and entertainment options.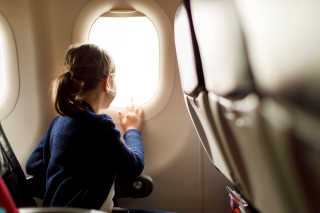 What happens at the arrival airport?
Children travelling with escorts disembark last, accompanied by a member of the cabin crew. During the booking process, you will have been asked to give full details of the person meeting your child. No-one else will be allowed to collect them (even other family members). When the airline ground staff verifies and matches with the waiting person's ID, they will both sign another form and your child will be safely handed over.
Start planning your child's flying adventure
Most airlines offer an excellent service for children who have to travel on their own, but please note that extra service fee may apply. Also unaccompanied minor service may be restricted to only non-stop flights or on certain routes that is fully operated by the same airline carrier. Once again, rules for unaccompanied minor service varies per the airline. We strongly suggest you to understand the rules and regulations set forth by the airline of your interest in advance.
---
When the time is right, visit CheapTickets.sg to start comparing flight.
---
Want to read more travel tips?