What To Wear When Flying
If you are unfamiliar with long-haul flights, you will probably find yourself wondering what to wear when flying? To keep comfortable during long flights, you should be picking loose-fitting clothing that is breathable, but also warm enough to combat the lower temperatures that are standard in an aircraft cabin. When dressing for a flight, you also need to think about the practicalities of your wardrobe when it comes to things like airport security. Need some guidance on putting together your wardrobe for your next flight? Our handy guide breaks down all the key information you need to know.
Tips on dressing for the flight
---
Keeping comfortable during long-haul flights
If you are planning on taking a long-haul flight, you will want to ensure your outfit is comfortable enough to be worn for hours at a time. Although many passengers tend to think less is best, you should plan for the relatively cool temperatures of an aircraft cabin when in flight. Wearing short sleeves or lightweight tops can be a good idea, but you will also want to ensure you have a second layer like a light jacket or cardigan to reach for when the temperature begins to drop. You should also avoid wearing anything that is too tight and restrictive.
Remember, the human body swells slightly at altitude. Although the effects of this can be combated by light exercise and moving around the cabin during a flight, tight clothing can make matters worse. Avoid anything with tight hems and belted fastenings. Instead, think about elasticated waists and materials with plenty of stretch. Undergarments are also worth thinking about when selecting an outfit for a flight. If you normally wear a bra, consider wearing a seamless one or a sportswear alternative that does not include extensive wiring and protruding fasteners.
Ditch the jewellery and accessories
If you are someone who loves their accessories, you will need to seriously rethink your travelling outfits. Wearing a substantial amount of jewellery and metallic accessories will considerably slow you down when it comes to passing through security. If you must travel with accessories, opt for items that can be removed quickly and easily. You should also avoid belts with complicated buckles. A simple pin buckle belt or a webbing belt will allow for easier removal and refastening when travelling through security at the airport. If you need to travel with your favourite jewellery, think about tucking it safely away in your checked luggage. If you need to have it closer to hand, store it in a clear plastic bag so it can be quickly inspected as you pass through airport security without arousing any suspicions.
How to dress for late-night departures
If you have to make a late-night flight departure, it is tempting to reach for the cosiest items in your wardrobe. However, you should certainly avoid dressing in pyjamas or items from your nightwear collection when heading to the airport. Generally speaking, adults are not advised to wear such items when boarding a flight. However, such clothing is certainly allowable for younger children, especially if you are catching a late-night flight and they will be sleeping for much of the journey. Adults looking to catch up on some sleep during a night-time flight should instead keep it casual and comfortable, with certain loungewear garments permissible. If you are dressing light for your flight, you should definitely think about storing some more conventional clothing in your hand luggage so you can change upon arrival at your destination.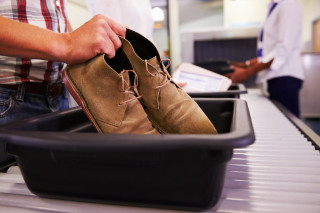 Selecting suitable footwear
Picking the right footwear when flying is very important. When choosing suitable footwear for flying, you have to think about comfort and practicality. We have already discussed how the body swells when travelling at altitude, but it is worth mentioning it again in regards to the feet. Many travellers suffer from swollen feet and ankles when flying, so you should consider this when choosing footwear for your journey. Shoes and boots with tight laces and fastening straps should be avoided. Casual footwear with fastenings that can be easily adjusted is certainly the best option. You can even consider slip-on shoes, such as espadrilles, for your journey. However, flimsy footwear like sandals should be avoided whenever possible. You need to think about the practicality of footwear when flying. If you intend on wearing the same footwear to get to the airport, board your flight and fly in, you need something reliable and supportive. Any footwear that leaves your toes or ankles exposed can lead to injury, while high heels make it difficult to traverse the airport and things like escalators and steps.
Face coverings
More and more people are wearing face coverings when flying. This is entirely understandable if you are sharing an aircraft cabin with hundreds of strangers for an extended period of time, but you should think about face covering effectiveness and practically when selecting one. Cumbersome gaiters and snoods might seem like a sensible option as they can be worn around the neck at all times, but they are not very effective at protecting you against airborne particles. If you are wearing a particularly tight neck gaiter, you can expect an uncomfortable journey ahead of you. Instead, use disposable surgical masks. These lightweight face coverings provide sufficient protection against harmful particles in the air, but can also be removed quickly when you need to catch a breath or reveal your face for passport checks.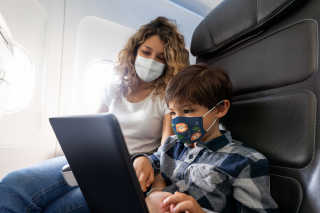 Dress for your destination
If you are travelling to a far-flung destination, you should ensure you are dressing appropriately. The cultural norms and expectations of some countries can be wildly different than your departure country. Although some leeway is generally applied to tourists, it is always suggested that you dress appropriately if you are going to be touching down in a particularly conservative country. Having some additional layers at your disposal in your hand luggage will help you cover all bases. Now you have a better idea of what to wear when flying, book your next flight with CheapTickets today.
---
Want to read more travel tips?