When And Where To See Cherry Blossoms In Japan
When and where to see cherry blossoms in Japan
With so many things to see, do and eat in Japan, anytime is a good time to visit Japan. But once a year, when the Sakura season comes around, you'll be treated with the views of beautiful pink petals blooming and the wonderful aroma that fills the air. This is the perfect natural complement to popular natural wonders like Mount Fuji, Mount Asahi and Mount Yoshino. Since the Sakura is one of the national symbols of Japan, this season takes on an additional significance with many springtime festivals to usher in this special time.
In order to help you plan your trip to Japan to see the full bloom of the cherry blossom, CheapTickets.sg has written this guide of the top 5 spots to get amazing views of the Sakura flowers and the right time to visit each city. The actual time of the full bloom varies sightly every year, but usually may bloom from early March to mid-April on the main island, Honshu, of Japan.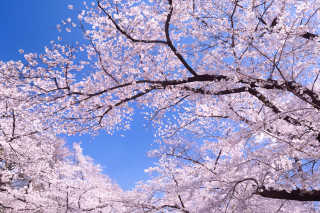 Tokyo, Japan: April
Many Singapore tourists flock to Tokyo, which is the most popular city to visit in all of Japan. Tokyo makes a great holiday destination during this special season with so many wonderful natural parks and gardens to admire the Sakura flowers in bloom. Even amidst skyscrapers and the bustling business district, it's not hard to find green open areas. The most popular parks to see cherry blossoms are Ueno Park, Yoyogi Park and Shinjuku Gyoen National Garden.
While you're in Tokyo, don't just spend the whole day looking for sakura trees as Tokyo has a whole variety of attractions and sights to see. For those travelling with families, a visit to Disneysea is an absolute must, as it's the only water themed Disneyland in the World. You also have the chance to stay at Tokyo Disneysea Miracosta, an amazing hotel located within the park itself. From here, you have direct access to the park and also get to enjoy extra hours of park visitation. For those travelling with their partners, a visit to Odaiba is an absolute must. Offering a huge range of shopping and dining options to choose from, Odaiba is lovely at sunset time and provides a wonderful romantic setting to end the day.
---
Fukuoka, Japan: Late March to early April
Are you a traveller that loves festivity, culture and heritage? If so, Fukuoka is the right place for you to see cherry blossoms up close and personal. The highlight of your trip will certainly be the festival at Maizuru Park, held once a year to celebrate the cherry blossom season. The trees are covered in neon lights and street food vendors offer you the best local delicacies at affordable prices. This festival brings together nature lovers and fans of heritage to watch a special lighting of the popular icons of the city.
Apart from cherry blossoms, Fukuoka has many popular attractions like Ohori Park, Nakasu Night Market with many street food options, Fukuoka Castle Ruins, and of course, while you're here you have to try the local specialty Hakata Ramen, known for its thick pork soup and thin, springy texture of the noodles.
---
Kyoto, Japan: Mid-April
Kyoto is one of the ancient cities in Japan that is steeped in tradition and heritage. As the cultural centre of Japan with temple, shrines and palaces, it's the perfect city to visit if you want to travel back in time to see the old Japan before its modern makeover. The most popular garden to see the Sakura trees in blossom is Maruyama-koen Park. Its claim to fame is a large Cherry Blossom Tree in the center of the park, making it an amazing spot for photos.
Or if you're travelling with your partner, a great romantic walkway by the canal is popularly called The Philosopher's Walk by locals. Here you'll see the cherry blossoms lining the walkways and at some portions forming an interlocking canopy. While you're in Kyoto, don't miss the chance to visit the Kyoto Imperial Palace, one of the oldest and grandest palaces in Japan, and Shimogamo Shrine, an ancient shrine in the forest dating back 2000 years.
---
Osaka, Japan: Mid-April
Osaka is the city to visit if you're a food lover and your idea of a good vacation is going from street stall to street stall and trying all the local delicacies. The main street to visit is Dotonbori, which is a stretch connecting Dotonboribashi Bridge to Nipponbashi Bridge. The stretch is approximately 700 metres, but it is just filled with so many food options like yakitori, yakisoba, okinomiyaki, ramen and sukiyaki that you'll be spoilt for choice. The best place to start this walking tour is at the famous Glico billboard with the runner at the finish line, which is a great spot for photos to upload to Instagram or Facebook.
Even though Osaka is a wonderful place to visit at any time during the year, it takes on a magical charm during the cherry blossom season, with so many great spots to see the Sakura tree, like the Osaka Mint Bureau (popular for its Sakura Tunnel) and of course, the historic Osaka Castle Park.
---
Nara, Japan: Mid-April
Nara has become very popular with Singaporean tourists in recent years due to many selfies of tourists and the cute Nara Park deers. This is a great city to visit if you're travelling with kids as it's very family friendly with many great attractions for your children to enjoy. The main one being Nara Park, where you can get a photograph taken with the adorable Nara Park Deers. Apart from Nara Park, there are many beautiful city parks and gardens for your children to run around and palaces and shrines where they can learn about Japanese history and heritage. All these are great spots to have a family photo taken with the blooming Sakura trees in the background.
While you're here, you have to visit Mount Yoshino and we assure you it's worth the one and a half hour drive to get there. Mount Yoshino is one of the most culturally significant and iconic spots to see the Sakura trees in full bloom and we're certain that this is one experience you won't want to miss.
---
From the southern island of Okinawa all the way to the northern island of Hokkaido, the Sakura season is loved by not only the locals, but by many of the travellers coming from abroad. If viewing the amazing cherry blossoms in Japan is one of the items on your travel bucket list, then be sure to plan early and compare for great flight deals to Japan with CheapTickets.sg
---
---
---
Want to read more?