When should I arrive at the airport?
The right time to arrive at the airport before your flight
Even experienced travelers and frequent flyers regularly ask themselves: when should I arrive at the airport? Nobody likes to arrive at the airport too early and spend hours waiting for their flight - even more so as airport lounges typically aren't cheap places to grab a cup of coffee while waiting. On the other hand, the prospect of delaying or missing a flight is a nightmare for most - avoiding stress by not arriving at the last minute is well worth some extra time. Or maybe you want more time to explore the unique airports you're flying from. So what is the optimal time frame?
From arrival at the airport to take-off
Let's break down why you should arrive at the airport sometime before your flight actually takes off. After arrival, there are several steps you must go through before boarding your plane. First, you must check in with the airline and pick up your boarding pass. If you have any luggage, you must check your bags at this point. Next, you must go through the security checks. Finally, you must make your way to the gate. You will need to calculate enough time to complete each of these steps.
Arriving in time for domestic flights
The general rule is that you should arrive at the airport two hours before departure for domestic flights or flights within the EU. This is a fairly common standard across the aviation industry, but there are some exceptions. In Canada, major airlines, such as Air Canada, advise you to arrive 90 minutes prior to departure. However, it is encouraged to arrive at the airport a few hours early in case of potential problems occurring that can make you late to your flight, such as heavy traffic, accidents, or long lines.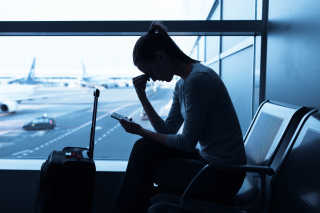 Arriving in time for international flights
For international and intercontinental flights, you should typically arrive earlier. The general rule is to be at the airport three hours prior to departure. Why do you need more time for international flights? Because the airport procedures will likely take longer. International travelers usually bring more luggage, resulting in longer cues. Security checkpoints also take more time, as you will have to go through passport control and possibly additional luggage checks.
Getting to the gate faster
Now that you know the general rules, you may add or subtract some time, depending on your situation. These factors generally speed up the airport process:
Checking in online saves time at the airport. Most airlines allow you to check-in online at least 24 hours before departure.
Not having checked baggage means you can get to your gate faster. Bring your luggage in a carry-on bag if possible.
In some cases you can use faster lines, for example, because of mileage status, first-class tickets, or pre-screening.
Adding extra time
On the other hand, it may take you longer than usual to get to your gate if these factors apply:
At peak times, waiting time easily adds up. Besides the busy summer holidays, each airport has its own specific peak days. Check your airline's website for information.
If you're flying from a large and unfamiliar airport, calculate some extra time to find your way to the gate.
For big groups of travelers the check-in process usually takes longer than for individuals.
Check out our blog on how to make your waiting time at the airport as fun as possible in instances in which these scenarios happen and make waiting less boring!
Airline requirements
Airlines have specific requirements regarding the time windows for check-in, baggage check-in, and gate arrival. Remember that boarding time doesn't equal departure time: you should be at the gate before boarding closes. If you're not there, your seat might be given to passengers on standby. When the plane is full, the doors will close and it will leave - with or without you.
As a rough guideline, it is safe to assume you should be at the airport two hours prior to departure for domestic flights and three hours prior to departure for international flights. Take account of potential delays and long procedures and make enough time to arrive at the airport early enough to reach your gate on time. Always check with your airline for specific requirements. Depending on your personal circumstances, you can add some extra time or arrive a little later. But remember that there is one thing you don't want: missing your flight. It is always a good idea to be on the safe side and arrive at the gate well before the doors are closed.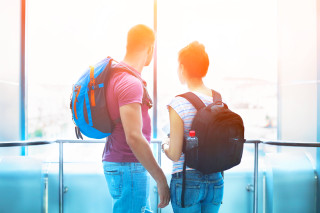 ---
Do you want to start planning your next trip? Find your flight tickets straight away at CheapTickets.hk.
---
Want to read more travel tips?