Cheap flights to Penang
As a UNESCO World Heritage Site, Penang is one of the most treasured spots in Southeast Asia. An old-world urban metropolis on one hand and a tropical paradise on the other, Penang is a rare kind of place where you can immerse yourself in the bustling city vibes or isolate yourself from the rest of the world at one of the many sun-soaked beaches that border the periphery.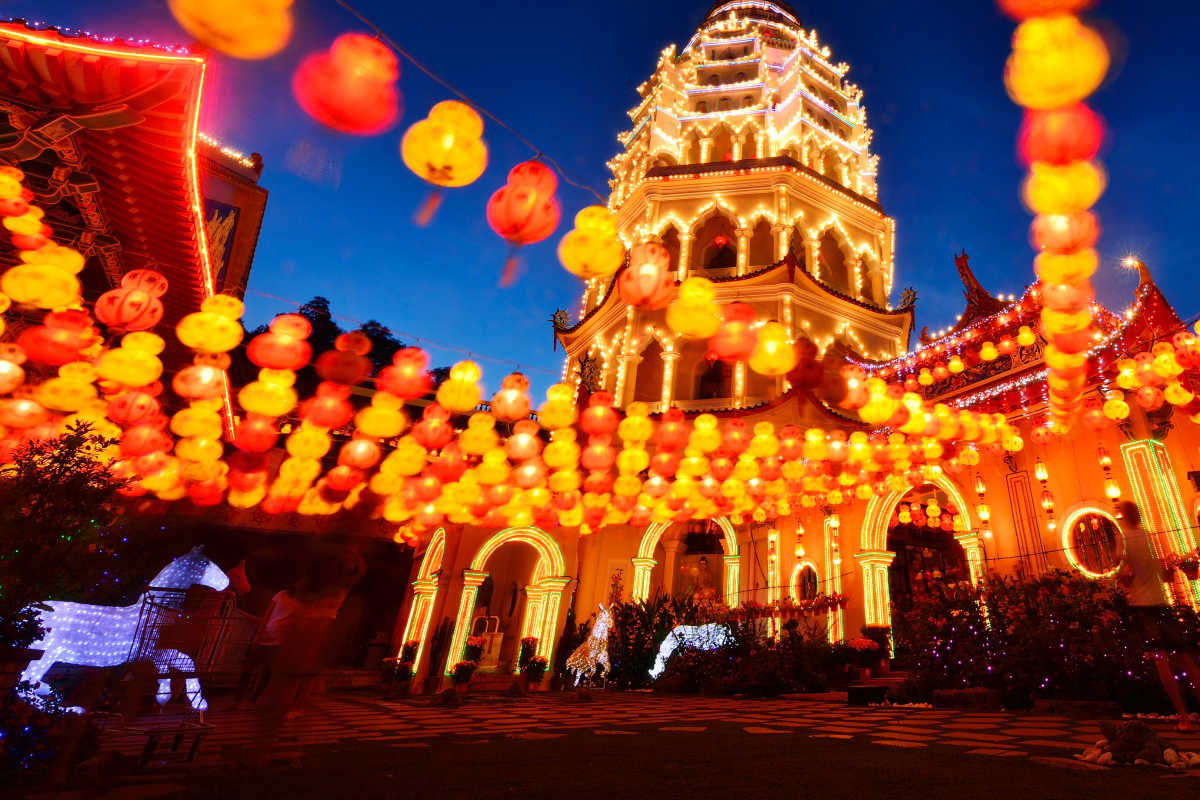 Penang is also famous as the go-to place if you ever have cravings for local Southeast Asian cusine. With numerous food stalls lined up on streets selling popular dishes like Char Kway Teow, Laksa and spicy Kang Kong, you will never go hungry in this city made for foodies.
In addition, there is a fine banquet of cultural delights to explore in this tropical city, including Kek Lok Si-Temple of Supreme Bliss – a majestic ancient Buddhist temple overlooking the Malacca Strait, and the wondrous exotic delights of the Botanic Gardens. Perhaps the most intriguing of all would be the Snake Temple which, true to its name, is stuffed with pit vipers that slither around the premises from dawn til dusk. Those who wish to steer away from architecture and experience Penang for its natural beauty can venture into the National Park – a bewildering and beautiful maze of jungles, beaches, rain forests, hills and animals sanctuaries.
Things to do in Penang
There's a plethora of things to see and do in Penang, and we've cobbled together some of the very best to help you plan your visit perfectly.
More to do's in Penang >>
Events in Penang
Penang has a reputation for being a lively island full of joy, whereby the festivals that spring up across the region all year round have a lot to answer for in this respect.
See all events in Penang >>
Practical Info
Temperature: The average temperature all year round is approximately 28˚C.
Currency: Malaysian Ringgit (RM)
See all practical info >>
Cheap Flights to Penang from Singapore
Looking for great deals or air fare promotions to Penang? CheapTickets.sg offers you great fares and an unparalleled booking experience. Book from your laptop, tablet or smartphone and be assured of soem great deals and a easy booking process. Did you know you can save some money by traveling on different days or fly from other airports? Use the filters on the search result page to find great deals.
Tip!
Complete your trip and Book a hotel or rental car directly with us. Handy! Also, don't forget to buy travel or cancellation insurance with us - travel in peace, on the cheap!