What you need to know about backpacking
What you need to know about backpacking
Ever wondered what you need to know about backpacking? Backpacking for beginners isn't a difficult subject, but there's a lot to learn. If this is your first time, planning and preparation are important. To help you get started, we've put together a quick guide.
Backpacking Guide for Beginners
What is backpacking?
Backpacking is a low-cost way of seeing some of the most exotic and remote locations in the world. Most of the time, backpacking allows you to travel independently, at your own pace. Along the way, you'll stay in inexpensive accommodations, and you might even camp from time to time. All of your possessions are kept in a backpack, leaving you relatively mobile. In many countries, backpacking is viewed as a rite of passage for young adults and retirees.
What you should not bring for backpacking
The whole idea behind backpacking is having the ability to remain agile and mobile. Everything you need is carried on your back, allowing you to board various forms of transportation quickly. Because you're travelling with the bare essentials, you'll need to make some tough decisions when packing. For example, you should keep clothing to a minimum. And any bulky garments you need should be worn wherever possible. Hair and beauty products take up too much space, and add to the weight you'll be carrying during your journey. Clothes, medication and a few select hygiene products should be given priority.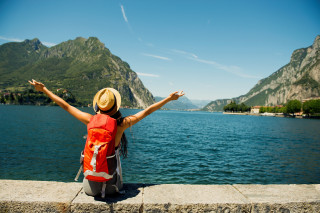 Where do most backpackers go?
There are fantastic backpacking locations all over the world. Visiting Europe's great cities is a popular backpacking expedition, which often involves the use of a European railcard. All you need to do is book your initial flight to the European city of your choice (Madrid, Paris and London are great options). For stunning views, backpacking across New Zealand is a great option. Wellington and Auckland are good places to start. Other popular backpacking destinations include the continental United States, Cambodia, Australia, Bolivia, Sri Lanka, Peru and Chile.
Is backpacking dangerous?
A degree of risk is involved with all forms of travel, and backpacking is no different. However, there are a few ways to maximise your personal safety during your journey. For example, make sure you never travel alone. Stick to tried-and-tested routes along walkways and highways. And don't accept lifts from strangers. For these reasons, forward planning is essential. Plan your route in detail, and book the necessary transportation in advance. Check your government's website to ensure the countries you're visiting are safe. It's also a good idea to book accommodations in respectable inns, bed and breakfasts and hotels.
What are the essentials items for backpacking?
The first thing you'll need is a sturdy backpack. It should be strong, but it also needs to be comfortable. Before you buy one, try it on — preferably when it's full. A good backpack should always have plenty of storage options for valuables such as your passport, money and tickets. Most backpacking trips include a lot of walking, so make sure you have some robust, comfortable walking boots. Ideally, you should break in your footwear before travelling. If you're planning to camp, make sure you have a sturdy tent, a sleeping bag, a soft mat, stove, fuel and water bottles. You might also want to take a little food to get you started. However, you'll need to plan shopping trips along your route. To ensure nothing is forgotten, create a backpacking checklist before you set off.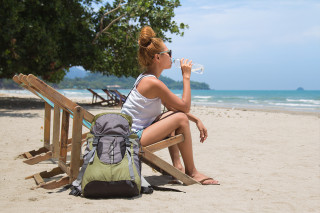 How can I make the most of my backpacking trip?
To fully enjoy the backpacking experience, you need to prepare. Make sure you have a route planned out in advance, and create a checklist for everything you need to take. This isn't the time to cut costs by purchasing inferior equipment. Ensure you have a great backpack and a great pair of walking shoes — with a spare pair, just in case. It's also important to prepare for the physical challenges that backpacking poses. There will be days when you have to hike many miles across the most challenging of terrains. And you'll be doing this with a huge amount of weight on your back. Make sure you build your fitness and physical strength during the weeks before your trip. And don't take on walks and hikes that are beyond your physical capabilities.
Book your travel in advance
A successful backpacking trip lies in the planning, which starts with your initial flight. Don't leave anything to chance. Find and book your outward and return flights in confidence with CheapTickets.sg.
---
The best countries for backpacking in the world