21 Best Family Resorts in the World
Exciting Family Resorts in the World
Adventure, luxury, excitement, or tranquillity, whatever you're looking for it shouldn't mean leaving the kids behind. From tiny explorers to teenage adventurists, world travel is no longer just an adult domain. We've handpicked the 21 best family resorts in the world, where everyone is catered for and you're guaranteed lifelong memories.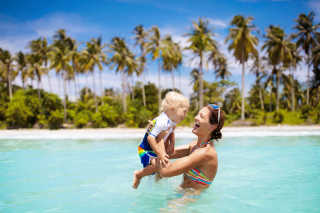 ---
Family Resorts in Africa and the Middle East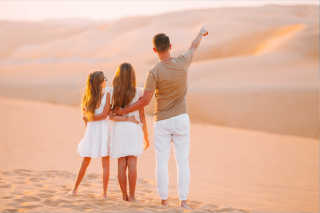 1. Alphonse Island, Seychelles
Alphonse is a privately-owned, atoll-wide resort, ideal for families who want to convene with nature. Kids can catch their own fish for dinner, learn to scuba dive, snorkel or kayak and experience a truly diverse ecosystem in pristine natural surroundings.
2. Boschendal Wine Estate, South Africa
Located in the Franschhoek wine region Boschendal is a true back-to-basics retreat. Activities include cycling, wild swimming, trout fishing, foraging and outdoor cooking. Families can stay in four-bed cottages with their own veranda, stove and kitchen.
3. JA Palm Tree Court Hotel, Dubai, UAE
Dubai isn't exactly lacking in luxury, family-friendly hotels, but our top vote goes to the JA Palm Tree Court Hotel. Adults and kids alike will enjoy considered amenities such as shaded kids pools, kids clubs, a pride of peacocks and a huge inflatable water park.
4. Sabi Sabi Private Game Reserve, South Africa
Who says you can't enjoy an authentic, luxury safari with the whole family? Sabi Sabi is one of the most child-friendly safaris in the continent, where children are even allowed on safari vehicles. The Elefun Centre hosts a busy itinerary of engaging children's activities.
---
Resorts in Thailand, Australia, and the Maldives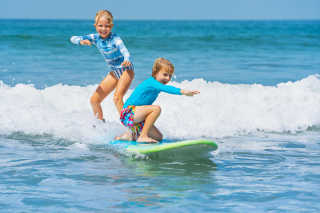 5. Anantara Golden Triangle Elephant Camp & Resort, Thailand
Far from the island beach parties is this tranquil retreat in North Thailand. It's the ultimate destination for children who love wildlife. Sleep in a transparent 'Jungle Bubble' for the ultimate close-up elephant experience.
6. Intercontinental Hayman Island Resort, Whitsundays, Australia
Nestled in a bay of the privately-owned Hayman Island is this fantastically family-friendly Intercontinental Resort. Choose from extensive kids club activities, as well as watersports, scuba diving, golf, boat trips and nocturnal tours.
7. JW Marriott Gold Coast Resort, Australia
This luxury hotel in Surfers Paradise is ideal for families looking for both luxury amenities and offbeat activities. Kids enjoy surfing, kayaking in the saltwater lagoon, sushi-making and origami. Parents will enjoy easy access to SeaWorld and Dreamworld, as well as a luxury spa.
8. Soneva Resort, Maldives
Anyone that thinks the Maldives is just for honeymooners should think again. Proof that luxury and family are not mutually exclusive, the Soneva resort ticks every box worth ticking. Choose between luxury beachfront villas and water retreats with private waterslides.
---
Family Resorts in Europe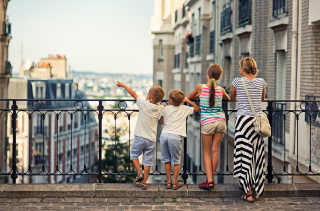 9. Augill Castle Hotel, England
What child doesn't want to stay in a real-life castle for the night? This atmospheric castle-turned-hotel in Cumbria is an adventure in and of itself, with its tiny Art Deco cinema, four-poster beds and super laid-back owners that let kids be kids.
10. Disneyland Paris Hotel, France
Of the eight resort hotels at the park, the imposing Disneyland Paris Hotel is the ultimate choice. Styled as a luxury American-Victorian hotel, this five-star resort features a spa, pool, games room and Disney characters.
11. Kakslauttanen Arctic Resort, Finland
Where better for a winter holiday than the home of Santa himself? Located in the heart of Finnish Lapland is this extraordinary resort. By day enjoy a husky safari or trip to Santa's home. By night view the Northern Lights through your own glass-roofed dome.
12. Legoland Hotel Billund, Denmark
The ultimate Lego holiday will always be Billund, Denmark, the original Legoland. Visitors can choose between two hotels, Legoland Hotel or Castle Hotel, but the former is the better choice for families, thanks to themed rooms, a bigger pool, a Lego playroom and a game zone.
13. Martinhal Sagres Beach Family Resort, Portugal
Martinhal Sagres is an award-winning family hotel, offering a European beach holiday that seriously cuts above the rest. Located within a protected park in the Algarve, it's perfect for those travelling with babies and infants, with extensive kids activities and even a children's spa.
14. The Dolder Grand, Switzerland
A palace-like hotel with views of Lake Zurich, the Dolder Grand has long-attracted celebrities and even royalty. Today it features a complimentary kids room, aquatics area and babysitting service which elevates it to being one of the most elegant, family-friendly choices in Europe.
---
Family Resorts in Canada and the US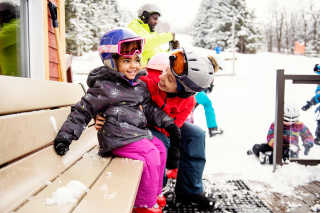 15. Aulani Disney Resort, Hawaii
Hawaii's Aulani Disney Resort might not house an actual theme park, but it still exudes the magic you'd expect from anything Disney. At this beachfront resort in Honolulu you'll encounter your favourite Disney characters, as well as a vast pool complex, reef snorkelling and movie nights.
16. Clayoquot Wilderness Resort, Canada
Located in the vast remoteness of British Columbia's Pacific Rim National Park, this wild luxurious resort, perfect for families looking to bond and recharge. By day experience breathtaking landscapes, bears and whales. At night sleep in the poshest tents in the hemisphere.
17. Four Seasons Resort at Walt Disney World, USA
If you're going to go to the world's most popular Disney park, you may as well stay at one of its best hotels, in this case, the Four Seasons. Helpfully located by the Magic Kingdom gates, this five-star resort doesn't do anything by halves. It houses a vast spa, an 18-hole golf course, a 242-foot waterslide and a rock-climbing wall.
18. Kimpton Shorebreak Resort, CA, USA
An excellent choice for those travelling with older children and teenagers, Kimpton Shorebreak Resort in Huntington encapsulates the best of bohemian California without commodifying it, which is lucky because teenagers sense inauthenticity straight away.
19. Panorama Ski Resort, Canada
Arguably one of the best family ski resorts in North America. Nestled in the mountainous Powder Highway region in BC, it's a firm favourite with families thanks to its world-class slopes, lack of late-night partying, and natural hot springs.
---
Family Resorts in the Caribbean and Central America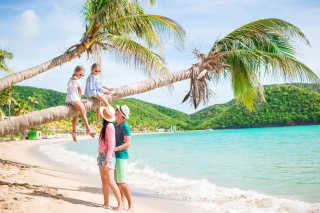 20. Atlantis Paradise Island, Bahamas
What more can be said about a hotel called paradise, on an island that is quite literally, paradise. But even still, the Atlantis will surprise you. Kids are entertained all day long with rock-climbing, a cinema, a dolphin habitat and aquarium as well as the vast adventure-pools complex.
21. Nickelodeon Hotels Punta Cana, Dominican Republic
The perfect choice for adults seeking Caribbean beauty and kids that need morning till night stimulation. Kid-friendly menus, adventure play areas and child-centric entertainment. If kids designed hotels, this is what they would create.
---
Did you find a resort where you would like to take your family to one day? Of course, there are many more amazing destinations in the world and we invite you to explore as many as you can with your loved ones. When the time is right, compare our best flight deals and book your flight ticket on CheapTickets.
---
Want to read more travel tips?