The Lowdown on Layovers: How do Layovers Really Work?
Air travel can be pretty stressful! With the passports and the planning and the tiny shampoo bottles, it's no wonder that layovers are the last thing we want to deal with. But layovers don't have to be an issue. Everyone has to deal with a layover at some point; they are a part of life, can save you big bucks on your journey, and with a little forward planning, they can be relaxed and straightforward. And, even fun!
What exactly is a Layover?
A layover occurs when you have to change planes part-way through your journey. The hope is that you only have a single layover, but sometimes there can be multiple layovers on one journey. Some can be just a few hours, some can be overnight and they almost always require you disembarking your flight and boarding a new one.
Will my boarding pass get me to my final destination?
More often than not you will have booked your flight with a single airline, meaning that yes, the airline representative will provide you with both boarding passes when you check-in for your first flight. In this case, when you land, all you need to do is follow the instructions of the flight attendants, proceed through security, and look at the departures board to find the gate for your next flight.
It gets a bit more complicated if your flights are with two different airlines. You might only receive your first boarding pass when you check-in for the first time. If so, then you will have to find the correct ticket counter at the layover airport and get your second boarding pass for the new flight.
If you are unsure, it is always a good idea to ask someone for help at the start of your journey. They will be able to tell you if you receive both boarding passes or if you need to collect the pass for your connecting flight during your layover.
If you are booking two separate flights, you must give yourself as much time as possible between your flight's arrival and the next departure. This guarantees enough time to collect your luggage, re-check it, and get through security again. We would encourage a minimum of two to three hours between flights.
Do I have enough time to get to my boarding gate?
Most airlines account for the fact that you will need to first disembark a flight, get through security and then find your boarding gate. Airlines will not sell a ticket with a layover time that is too short. In the case of a delay, the airline is almost always aware of the fact that they have passengers on board with connecting flights and if you are flying with the same or partner carrier, they will inform your next flight of the delay. As much as you will inevitably end up stressing, try not to. There is nothing you can do about a delay. Trust that the airline is aware of the situation and that they will do everything they can to make sure that you get to your boarding gate in time.
What about my luggage?
For most domestic and international layovers, you can sit back and relax knowing that your checked luggage will be sent through to your final destination. This does vary for some international layovers, depending on which country and airport you are in. If you are flying into the US or Canada, you will need to collect and recheck your luggage no matter the destination of your second flight. But for leaving the US and for most other countries, as long as your flights are with the same airline or partner airlines, your luggage will get transferred for you.
Do I need to go through security?
During your layover, you will, at some point, have to go through airport security. Even if you don't need to go through immigration, you will most likely have to go through security before you board your next flight. This is nothing to worry about, just make sure that you finish and throw away that bottle of water you took off the plane before going through security again - no liquids over 100ml!
Do I have to go through border control/immigration and customs?
Generally, you will be what is called a "Transit Passenger" which means you will not be leaving the airport or staying in the country that you have just landed in. As a transit passenger, you bypass border control when you step off the plane and simply need to follow the signs that indicate transfers or connecting flights.
The need to go through immigration and customs does change depending on which airport and country you are in. Again, the US and Canada are particular in their processes. Here you will have to go through border control even if your final destination is somewhere else. For example, if you are flying from France to Mexico with a layover in the US, you will need to fill out the customs form, have your passport checked and collect and recheck your luggage.
If you are wanting to travel to and in Europe then it's important to know that the 26 countries that are part of the Schengen Zone also operate a little differently. All flights between Schengen zones are considered domestic, so for example, if you're flying from the UK to Berlin and then continue onto Paris, you will go through immigration and customs in Berlin, but not in Paris. You can also check with the airline/airport staff at the time of check-in and/or upon arrival of your first destination.
The only other time you would need to go through immigration is if you have a long layover and you want to explore the city that you have stopped in. You will have to go through immigration and customs to leave the airport.
This may seem complicated but we promise that it is all pretty self-explanatory when you land, and there will always be someone to ask for help.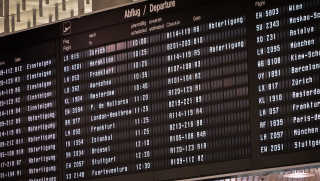 So go ahead, book your flight on CheapTickets.sg, maybe even take advantage of a long layover, exploring one destination on your way to another.
---
Want to read more travel tips?