Most Beautiful European Island Destinations
The 15 Most Beautiful European Island Destinations
Do you love island life? The freedom to drive around an entire island, being able to surf, sunbathe and swim in the sea, discovering hidden gems, exploring coastal villages, the tranquility and smaller population, the awareness of the land they live on... Island life is fantastic and you can learn a lot from these lifestyles! Here are the 15 most beautiful islands for you!
---
1. Menorca, Spain
Small, but beautiful, Menorca is the quiet sister of Mallorca! This island is one of the lesser known islands of the Balearic Islands. Compared to its neighbors Ibiza and Mallorca, Menorca is small, but with an authentic Spanish feel, a rich culture and an interesting past that dates back more than 2,000 years. Menorca is truly an island paradise with a beautiful sea in all shades of blue, dozens of unique beaches, beautiful towns and villages rich in history and tradition. It is an extraordinary island, a place you can quickly call home. Are you looking for the perfect beach life? Menorca, has a coastline of 220 km, with more beaches than Mallorca and Ibiza combined!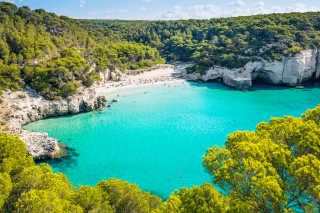 2. Mykonos, Greece
Mykonos is a Greek island in the southern part of the Aegean Sea and belongs to the island group, the Cyclades. It is located near the islands of Tinos, Paros, Syros and Naxos. So it's a perfect first destination for island hopping! It is a world-famous and always sunny island that is always showing its unique, vibrant character. You'll find an energetic summer nightlife and natural beauty with beautiful beaches, as well as picturesque architecture and pretty villages: Mykonos adheres to the traditional and protected Cycladic architectural style. The island is dotted with small, low and whitewashed houses with striking colourful details, often used for movie sets!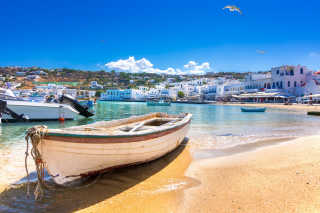 3. Hvar, Croatia
The Croatian island of Hvar is known as the queen of the Croatian Dalmatian islands! Thanks to its mild climate, warm winters and pleasant summers, Hvar receives many travellers, which are attracted by its dense Mediterranean nature, rich traditions and amazing nightlife. The beaches are beautiful, the water clear blue and the island is dotted with vast fields of lavender, ancient olive trees and vineyards.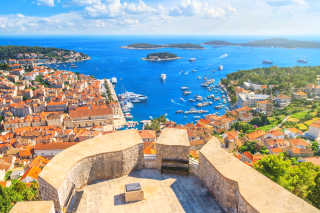 4. Corsica, France
The French island of Corsica is nicknamed the "island of beauty" for its stunning landscapes: from red cliffs, turquoise waters and stone villages to mountains and dramatic valleys full of chestnut trees. There are hidden bays, sandy beaches and rugged peninsulas. Did you know that Corsica has more than 1,000 km of coastline? Being Napoleon's homeland, makes it a land full of tradition and history. It's better to discover the island on walks through the towns overlooking the Mediterranean sea.
5. Ibiza, Spain
One of the most famous, beautiful and popular islands in the Balearic Islands is Ibiza. Although the size of the island is relatively small, it is full of amazing sights, attractions and things to do. Ibiza is widely known for its dynamic nightlife, but in return it has an ultimate and laid back hippie island vibe. Hello hippie markets, sunset rituals and hidden spots! From the history of Ibiza and the breathtaking views of Sa Talaiassa to the special and hidden beaches, Ibiza is a must experience.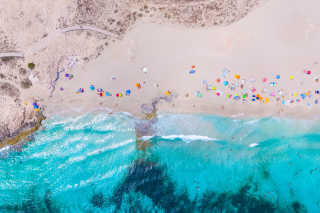 6. Santorini, Greece
The Greek island of Santorini is one of the most popular vacation destinations around the world. Making it one of the most magical places you've ever seen! Here you will also find the most dramatic sea views you have ever seen, with the most beautiful sunsets in the world. The island consists of a rocky landscape, amazing red and black volcanic beaches and the volcano Santorini. The huge cliffs are dotted with dreamy Cycladic whitewashed houses and churches with blue roofs. A magical island!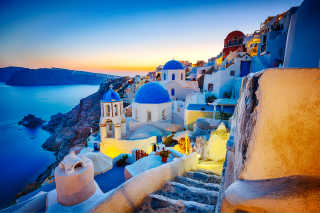 7. Burano, Italy
Burano is an Italian island in the Northern Venetian Lagoon, 11 km northeast of Murano and Venice. This island's life is mostly in the form of the laid-back villages full of colourful houses reflected in the green waters of the canals, with laid-back locals, the fishing villages full of balconies with multicoloured flowers and fishermen hanging fresh fish from their traditional boats.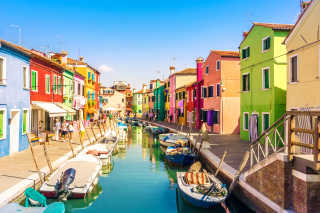 8. Capri, Italy
Capri is an Italian island in the Gulf of Naples. It is one of the world's most popular tourist destinations, beloved for its dramatically rugged coastline, its sea caves hidden in the cliffs and the glamorous yet informal feel of the island's villages. It is also an island with a thousand faces, where visitors can walk the paths along the cliffs above the Mediterranean in total solitude, dive into the crystal-clear waters of the rocky coast or get lost in the lively bustle of the Piazzetta.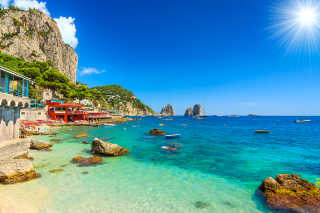 9. Brac, Croatia
Every summer, many sun-seeking tourists flock to the beautiful island of Brac in Croatia. Most visitors rush to the famous town of Bol, to the turquoise waters of the Adriatic Sea and to one of Croatia's most famous beaches - Zlatni Rat. The horn-like shape of the beach makes it unique! You can easily take the ferry from the city of Split to arrive to this beautiful island.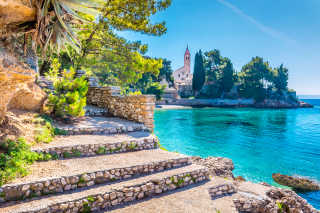 10. Las Palmas, Spain
On Las Palmas there is a real island life vibe, by also being part of the Canary Islands. The island has a very diverse landscape and climate, which is why it has been declared a biosphere reserve and starlight destination. This island offers breathtaking landscapes, secluded beaches, imposing volcanoes, dense forests and incomparable starry skies. The island has a special energy that you can only experience if you have been there!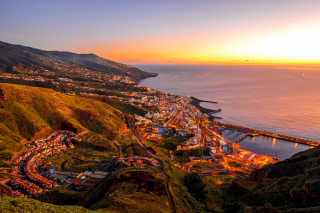 11. Tenerife, Spain
Spain's Tenerife Island is a paradise with a diverse tropical landscape. Relax in a chic resort, explore the island, surf at black sand beaches, hike in deep gorges, eat fresh fish... Hello island life! The south is desert-like and dry, while the north is very tropical and green. 80% of visitors flock to the south, where endless golden sand beaches await and sunshine is guaranteed, but the north offers a wilder experience, with black volcanic sand beaches from the high volcano The Teide.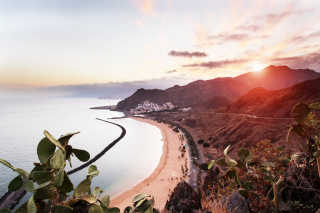 12. Malta
The historic Malta, located in the Mediterranean Sea, is truly a great island for a fine island vibe vacation. There are beautiful beaches, a lively capital, blue caves, fantastic underwater life. You can also find historical buildings, picturesque villages and fine restaurants, making it a perfect island destination.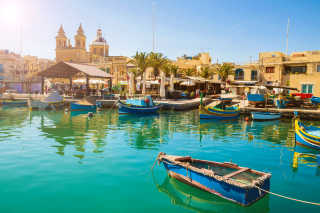 13. Achill, Ireland
Ireland's Achill Island is a special island! It's fresher than its sunny predecessors, but also rougher. You'll find peace and quiet on the award-winning golden beaches, you can swim and surf in the clear waters and meet the friendly locals in the traditional, charming pubs. Cheers!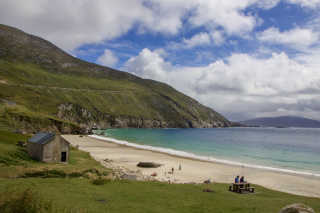 14. Kefalonia
The Greek island of Kefalonia is also known as the jewel of the Ionian Islands! It is the largest of these islands, located off the west coast of the mainland. Cephalonia is unique: mountainous with many forests, rivers and underground caves. It is also famous for its clear turquoise waters and numerous white sandy and private pebble beaches with a coastline of over 250 km. You must visit its many beautiful bays and coves or especially if you're looking for a nice and quiet travel destinations.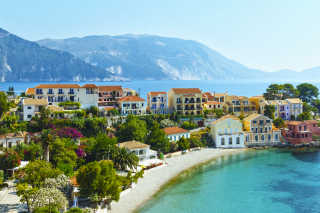 15. The Azores, Portugal
The Azores is the perfect place for nature lovers! Being the volcanic, green islands of Portugal! The Azores have even been named the second most beautiful archipelago in the world. It consist of an archipelago of 9 islands in the Atlantic Ocean under Portugal, but ... they are only 1,500 km from the Portuguese coast! This makes for a unique destination, with its special flora and fauna making it a whole different world. Think of spitting feathers, steaming mud pools, vast rolling green meadows, huge volcanic craters, black and golden beaches, healing hot springs, lava flows, waterfalls, rugged cliffs, deep canyons and beautiful azure lakes. You can even easily spot whales, dolphins and sea turtles here!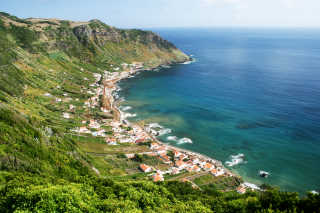 ---
Ready to experience your next island lifestyle experience? Book with CheapTickets.sg and get one of our best flight deals for your next adventure!
---
Need more inspiration for you beach getaway?