Time to pivot your travelling plans to the post-COVID world
Time to pivot your travelling plans to the post-COVID world
As Singapore gradually reopens its borders along with several other countries that are slowly emerging from lockdown, international travel is going to be distinctively different from how it used to be in the pre-COVID world. Safe distancing, temperature checks and health declarations are likely to be the new standard protocol at every international check-point. Unanimously, we can all agree on how coronavirus could change the way we travel.
While it is exciting and uplifting to plan for a future trip amid cabin fever, it is time to pivot your travelling plans to the following five key factors that you should consider while planning for your first post-pandemic trip.
1. Flexible Flight Tickets
Given the experience from COVID-19, any traveller must inform themselves of the policies that entail in their booking, to understand what their options are regarding refunds, waivers and rebookings. Whether it is natural disasters at the planned travel destination or other unforeseen circumstances that led to a change in travel plans, nothing beats having the flexibility to change your flight tickets, free of charge.
To enjoy a peace of mind, you may want to consider opting for flexible flights, or a 'flexi fare' where the dates in which you choose to travel is flexible and you can make changes without any additional charges from the airline.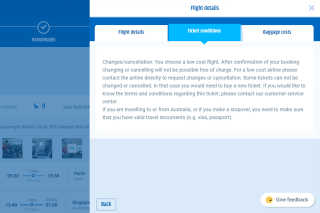 #CTSGtip: Low-cost airlines typically have stricter cancellation or amendment policies. You can check 'Ticket Conditions' before making a booking.
2. Travel Insurance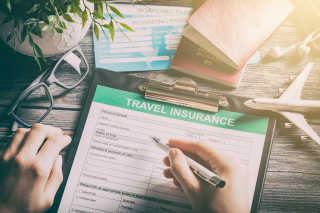 Now more than ever, people have probably realised how vital comprehensive travel insurance is. While most travel insurance policies these days have excluded claims related to epidemics and pandemics, it still pays to buy your travel insurance the moment you book a holiday. In this uncertain time for many, it is valuable trip protection, ensuring that interrupted travel plans (illnesses or other unforeseen events) do not end up as a financial nightmare.
#CTSGtip: When booking with online travel agents like CheapTickets.sg, we have partnered with global firm AirHelp to provide compensation services for any affected travellers. Read our blog on AirHelp to find out more on what they do, and how they can help you!
3. Register your trip with the Ministry of Foreign Affairs (MFA)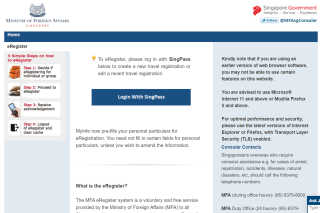 Screenshot from MFA
Most Singaporeans may neglect or are genuinely unaware of this but registering with the MFA before you embark on your travels, could be a lifesaver should an emergency occur at your travel destination.
Regardless of whether you are travelling abroad for study, work or leisure, the eRegister system allows you to record information about your travel itinerary abroad. Should an emergency arise due to civil unrest, natural disasters, or terrorist attacks, the information provided to MFA will allow them to contact, provide consular assistance and deploy critical response teams, if need be, to help you return home safely.
#CTSGtip: It is strongly recommended to check MFA's travel advisories for your destination(s) prior to travelling.
4. Cashless Options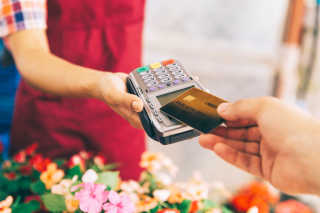 In this new germophobic world created by the coronavirus, we anticipate many travellers opting to shift payment methods from physical cash to cards, or even contactless.
Enjoy the convenience of going cashless with multi-currency cards that allow you to hold your money in one or more foreign currencies so you can travel with ease of mind. Most of the multi-currency cards allow for contactless payment, and if they don't, there is always an option of adding the card within Apple Pay or Google Pay.
#CTSGtip: Join the new cashless revolution with Singapore's first multi-currency travel wallet, YouTrip. Read our blog to earn a free SGD5 credit into your account when you sign up with our exclusive promo code.
5. Personal Hygiene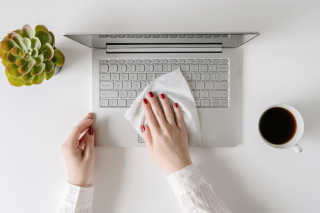 In the post-pandemic world, before a vaccine is widely available, the biggest concern of any traveller would arguably be hygiene and sanitisation.
By now, we are probably all used to carrying a hand sanitiser or wet wipes wherever we go, washing our hands as frequently, especially after touching surfaces. With heightened scrutiny over sanitisation in hotels, eateries and tourist attractions, personal hygiene is also the new focus. Therefore, packing personal hygiene items with you on your next travel is imperative as the first line of defence against any viral infections.
#CTSGtip: Wondering what hotels are doing to improve their cleanliness? Check out our blog on how hotel groups around the world are putting in an effort to curb the spread of COVID-19.
Besides finding the cheapest flights, CheapTickets.sg also offer hotel booking globally. With more than 600,000 hotels with affordable prices, we will be here when you're ready to travel again.