Top unique wedding locations
Top Unique Wedding Locations in the World
There are some truly stunning dream wedding locations out there. But is it the perfect, unique wedding for you? That will depend on personal taste, and on practical issues such as: long or short haul flights? Big or small party? Because the more far-flung the destination, the fewer people are likely to travel with you. And what type of location do you prefer?
We could have filled the entire list with beach destinations, but for the sake of balance, we've included city and countryside options in our list of top unique wedding locations.
Need some unique wedding destination ideas?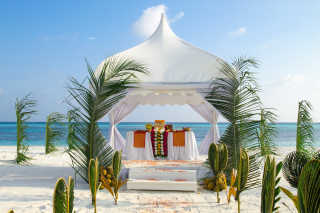 Uniquely glamorous and elegant, this lofty stretch of the Italian shoreline has a long track record of attracting the rich and famous. Positano has a particularly fine selection of hotels such as the Palazzo Murat, and the area abounds in beautiful old villas which have now become high class wedding venues. The best known is the Villa Cimbrone, whose Infinity Terrace offers spectacular sea views. The best time to go is April to June to avoid the thick of the crowds.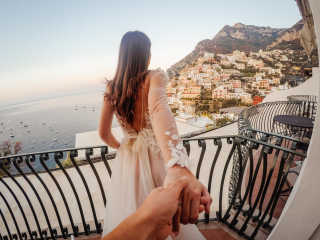 Spectacle, colour and romance in Phuket, Thailand
Bring your nearest and dearest with you and enjoy an intimate beach wedding in Phuket with a simple archway and flowers, then a bigger reception for family and friends when you get back home. Alternatively, go for an ambitious mixed wedding and honeymoon, beginning with a fantastic Thai feast and followed by lots of partying in the resort town of Patong. And if you want the big day to be especially memorable, there's always the option of a monk blessing and temple wedding. Phuket is at its best from November to February.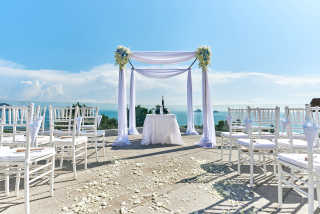 If you want your marriage to be a big event, there's nothing like a wedding in the French countryside. Provence has perhaps the most unique blend of reliable weather, wonderful food and drink, stupendous scenery, and a great choice of hotels and private villas. For large scale family occasions, nothing beats a chateau wedding, The Chateau de Robernier dates from the 16th century and has its own chapel and ballroom. When to go? Late spring and early autumn when the crowds have diminished and the sun is less fierce.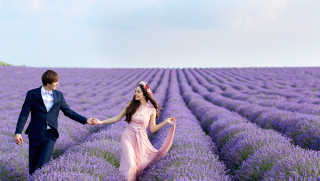 Manhattan for a rhapsody in white
When it comes to city weddings, Manhattan in New York is the place, its choice of glitzy venues are simply unparalleled. Imagine having your ceremony and reception in Central Park, one of the most famous green spaces in the world. Meanwhile, the 620 Loft and Garden at 30 Rockefeller is a rooftop oasis perched among the skyscrapers of Fifth Avenue and cheek by jowl with the brooding Gothic facade of St Patrick's Cathedral. Manhattan is the perfect backdrop for autumn nuptials.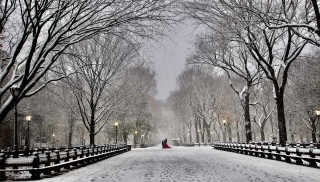 The lofty volcanic caldera and black sands of this Greek island make a striking contrast to a white wedding. Resorts such as Dana Villas in Firostefani are experienced in catering to couples, but you'll find there are hundreds of other options available. The island can get very busy during the summer holiday season, so it's better suited to a May or October wedding.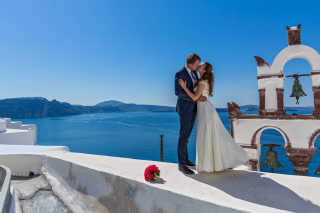 The Lombardy area of Italy provides a choice of no less than four gorgeous lakes. Their shorelines are graced by historic venues like the Hotel Villa Flori. All in all, it's the perfect destination for a big, formal wedding with an emphasis on a magnificent reception brimming with first class food and wine. To ensure that the lakes aren't too busy, head there in May or early October.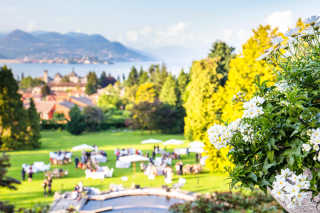 Putting on the Ritz in Dubai
Dubai is famous for opulent beachside resorts like Atlantis the Palm, where you can wake up in a villa over the water and calm your pre-wedding butterflies with some spa pampering or drinks on a private beach. Or for a real taste of Arabian romance, consider a desert wedding, complete with Bedouin tents. A first-rate destination any time from early autumn to late spring, it's a good choice for couples planning around busy schedules.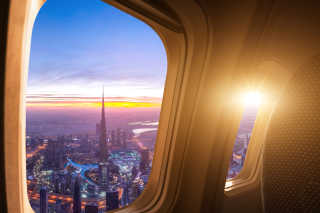 Bouquets and boat drinks in Saint Lucia, the Caribbean
If you want to combine a winter wedding with an escape to the sun, Saint Lucia in the Caribbean Islands is the perfect destination. Relaxed, informal weddings work well in this lush, laid back setting, where you can segue into honeymoon mode with hikes up the mighty Piton mountains or snorkelling in the pristine water. Time your visit between December and May for the best of the weather.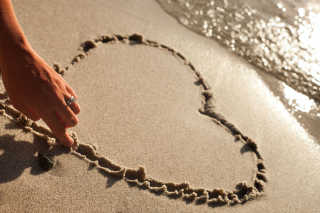 Visit the most unique wedding locations in the world now
So still just dreaming about your dream wedding when it might be just only a flight away? Wherever you decide to have your special day, let CheapTickets.sg do the hard part of securing flights and accommodation at the best price - you'll already have enough to think about!
---
Want to read more on?