Travelling in Business Class
Travelling in Business Class
Travelling in business class is an affordable alternative for those looking to enjoy premium perks without having to pay for a first class ticket. Most commercial airlines offer a business class service, especially for longer flights to international destinations. Our guide breaks down all the reasons why you should be considering upgrading your economy ticket to a business class one.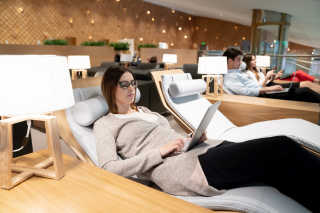 The benefits of business class travel
Business class perks vary from airline to airline, but you can expect some standard features regardless of which operator you fly with. As the name of this travel class would suggest, business class is a service designed to suit the needs of the business traveller.
Extra services provided for Business Class travellers, includes:
Express check-in and priority boarding
Additional baggage allowance
Lounge access
Superior service and amenities when on-board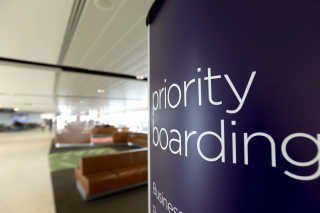 As such, you can expect facilities and amenities to help you conduct business during your flight. Before you board the plane itself, you will be able to access business class lounges with refreshments and wireless access provided, allowing you to keep on top of work priorities right up until the moment of boarding. Once you have boarded the plane, you will also find cabin space tailored to the needs of those who need to carry on working from the moment of take-off, right up until they touch down at their destination. Business class cabins provide passengers with more legroom, ample space to work and a variety of additional benefits that makes any journey a far more pleasurable experience. Business class seats should include personal power supplies, as well as USB ports for your electronic devices and most major airlines provide complimentary Wi-Fi. Spacious desk areas are also a common feature. Additional baggage allowance is another staple feature of business class travel.
---
Complimentary business class extras
When travelling on a business class ticket, you can expect complimentary food and drinks served during your journey. Most airlines offer meal and beverage options that are far superior to what you would expect from economy class, with no additional costs involved. In fact, many airlines provide business class à la carte dining that you might normally associate with first class flying. You will also find complimentary entertainment to keep you occupied during longer flights. On-demand video systems are standard throughout business class cabins, with no additional costs involved to access a full slate of content. Business class screens are significantly larger compared to those for Economy Class and provides a better viewing experience.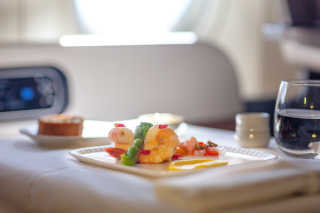 A more comfortable flying experience
If you are all caught up on your to-do list, use travelling business class as an excuse to kick back and relax. Business class seats provide you with considerably more legroom than if you were travelling in economy. In fact, many business class seats double up as reclining beds so you can enjoy some much needed sleep when travelling internationally. Some major airlines will also provide service in which the crew offers to prepare or convert the seat into a bed (usually after dining services). Business class customers are also offered complimentary blankets, bedding, and pillows (when needed) so they can enjoy a truly restful sleep before they arrive at their destination.
First time flying business class?
If it is your first in business class, there are a few things you should expect. For starters:
What to expect when travelling on business class:
1. Check-in: the process is a lot more convenient than if you were travelling economy. Business class customers will often be granted express priority at check-in.
2. Extra luggage allowance: you may be allowed 1 more extra luggage to check-in or the weight allowance may be slightly higher. Also most major airlines will provide additional priority tagging to your luggage, so you will be able to receive your baggage at your destination earlier than those in Economy Class
3. Lounge Access: you will receive access to the VIP lounge (in certain cases +1 guest although this varies by airlines as it can be due to frequent flyer membership) where they enjoy all of the amenities and relax before boarding time.
4. Attire: You should also think about what you plan on wearing for your journey if flying business class. Most airlines do not have a strict dress code for business class customers, but you should at least aim to wear smart casual attire. Although sharp suits and tailoring are not called for when flying business class, you should certainly think about reserving shorts and sandals for the beach.
5. Onboard service: Another welcome surprise for many trying business class for the first time is complimentary drinks on arrival. However, if you have enjoyed more than one alcoholic beverage in the business class lounge, you may want to pace yourself with the champagne. It can be tempting to over-indulge with free drinks, but there is a certain etiquette to observe in the business class cabin.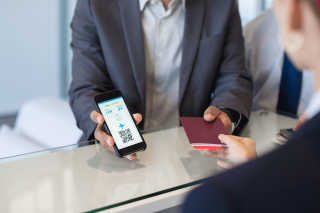 Is travelling in business class worth the cost?
Although those travelling in economy class are generally well provided for, business class travellers enjoy substantial benefits for the added cost of their ticket. In addition to access to the airline lounge, priority boarding and drinks on arrival, service within the business class cabin itself makes travelling a far more enjoyable experience. You may however find yourself pining for a more premium experience and want to consider upgrading to a first class ticket.
What is the difference between First Class and Business Class?
The main difference between business and first class travel becomes obvious within the plane itself. First class passengers will not only enjoy ample legroom and private seating, but travellers may notice that a few airlines may even have a slightly different carpet in the first class cabin. Other differences might be the layout of the seat, different amenities, and shower service (provided on designated Emirates and Etihad Airways fleets). First class seats may also include a partition or sliding door so passengers can enjoy a significant amount of privacy during their flight. First class passengers are also likely to be provided with pyjamas and luxury travel kits for their journey. Both classes provide passengers with high-end food and beverage options, although those travelling in first class will usually have a wider choice. Certain luxuries like caviar are commonplace in first class cabins, for example. In-flight entertainments are pretty standard across the board, although those in first class are likely to benefit from larger screens.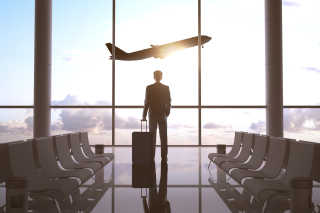 Keen to explore the perks of business class travel for yourself? Book a business class seat with your preferred airline with BudgetAir today.
---
Want to read more travel tips?