Travelling with a Wheelchair
Travelling with a Wheelchair
Booking a flight and requesting special assistance can be confusing if you have never done it before, while getting through the airport and boarding your flight can prove time-consuming. Unfortunately, it is not possible for passengers with mobility issues to take their own wheelchair with them into the cabin of an aircraft. Instead, special assistance will be provided to allow you to board and disembark the aircraft, while your wheelchair will be stored in the hold of the plane. Planning a trip as a wheelchair user, but need some guidance on how to make your journey as hassle-free as possible? Our guide provides all the essential information you need to know when travelling with a wheelchair.
Travel tips for when travelling with a wheelchair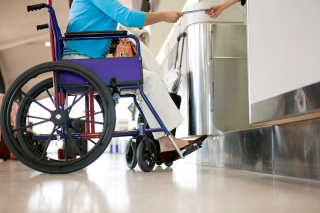 Things to consider before you book a flight
If you are planning on travelling with a wheelchair, there are several things to consider. Travellers are advised to research the specific policies regarding disabled passengers and wheelchair users of the airline you intend to fly with.
Airline Policies: Policies vary from airline to airline, although the vast majority will provide some provisions for wheelchair users. However, if you use a battery-operated wheelchair, you may find booking a flight more difficult. Some airlines will not allow you to travel with such wheelchairs because of their substantial weight.
Seat Selection: You will also want to think about seat selection when booking a flight as a wheelchair user. A window seat can be a good option if you want to avoid having fellow passengers having to squeeze past you, although those with very limited mobility will find an aisle seat a better option. An aisle seat is definitely preferable if you need assistance in transferring from your wheelchair to your seat. However, the best option for wheelchair users is bulkhead seating. These seats are generally more accessible and offer considerably more legroom that makes it easier to get in and out of a wheelchair. If you wish to make use of bulkhead seating, it is a good idea to consult with your airline immediately after booking to inform them of your special circumstances.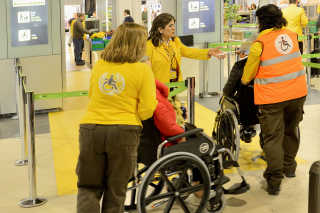 Booking a flight and requesting special assistance
Passengers who require a wheelchair for mobility issues can usually request special assistance when making an online booking.
After Booking- Confirm prior to departure: You can also request special assistance after making your initial booking, however, it is advised that you alert your airline at least 48 hours prior to departure to ensure your requests can be fulfilled.
Requesting Service at the Airport: You can request special assistance such as an escort to help you through the check-in process. You can also request an escort for passing through security more easily, allowing you to reach the departure lounge as swiftly as possible. You can also request assistance at the boarding gate itself, as well as help to get you into your seat once it is time for boarding. Some airline operators will have onboard wheelchairs (or aisle chairs) to make travelling down the aisle and getting into your seat as straightforward as possible. However, smaller aircraft travelling on domestic routes may require a wheelchair to be brought on board for this purpose.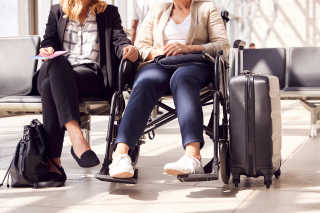 Allow for more time when travelling
Wheelchair users are also advised to pencil in additional time when flying with a wheelchair.
Boarding/Disembarking: Although wheelchair users will usually enjoy priority boarding, they are often among the last passengers to be able to disembark an aircraft. Depending on how full a flight is, you may find yourself waiting up to half an hour before other passengers have disembarked and you can be assisted to leave your seat and the aircraft yourself. You should definitely think about the additional time your journey will take if you are hoping to make a connecting flight.
Connection flights: If you need to catch a connecting flight as a wheelchair user, you should ideally make sure you have ample of time between the flights in order to make your transfer. Others circumstances such as delayed flights and long immigration lines should be taken into consideration.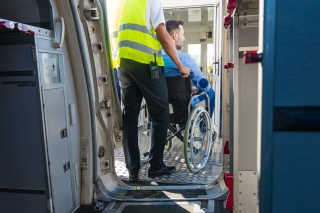 Making your flight as comfortable as possible
While the additional planning and preparation can dissuade wheelchair users from booking flights, onboard comfort is another factor that puts many people off from utilising air travel. However, wheelchair users can make their journeys far more bearable by observing a few basic things.
Seat Cushion: Airline seats can be uncomfortable at the best of times and this is especially true for wheelchair users. Even though you will have to check your personal wheelchair as hold luggage before take-off, you are advised to bring your wheelchair seat cushion with you onto the plane. Your wheelchair cushion will provide you with more substantial comfort than a standard airline seat.
Travel Pillows: Additional travel pillows are also a good idea, especially if you are planning on taking a long flight.
Stay Hydrated: It is also important to remain hydrated during longer flights, but this can lead to more frequent trips to the toilet. Picking an aisle seat or bulkhead seating makes trips to the restroom much more straightforward, especially if you have to rely on the assistance of cabin crew to transfer into an onboard wheelchair.
Minimise the chance of wheelchair damage when travelling
As your wheelchair will need to be checked in as luggage prior to your departure, it is important to ensure it is properly stored to prevent damage. A good way to minimise potential damage to your wheelchair is to remove any detachable parts prior to turning it over to airline personnels. This includes components such as wheels, footrests, and armrests. Usually, these items can be taken with you onto a plane without compromising your hand luggage quota. It is also worth attaching any special instructions to your wheelchair to ensure it is not handled improperly.
Feeling more confident about air travel as a wheelchair user? Explore the world by travelling to amazing destination. When the time is right, please check and compare our best flight deals and book your next flight with CheapTickets.
---
Want to read more travel tips and inspirations?