What is excess or oversized baggage?
What is excess or oversized baggage?
Whether on a business trip or on leisure travel, overall travelling requires meticulous planning and this is no exception when you think about baggage. As a passenger, you are responsible to make sure you understand the guidelines that are set by the airline(s) you are flying with. So arrive at the airport all prepared by understanding all about excess and oversized baggage.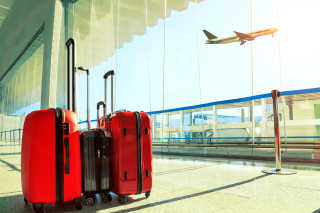 What do airlines mean by 'excess baggage'?
An excess baggage is any bag, suitcase, or box that is over (not within) the permitted allowance set by the airline carriers. The baggage rules or limitation is set by the airline(s) on both carry-on and checked baggage which you bring to the airport. The rules set a limitation on the following:
quantity
baggage weight
baggage size
Furthermore, these allowances depend on the airline (each carrier has their own restriction), routes, cabin class, and/or the fare class.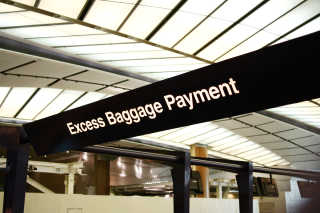 What is an excess baggage fee?
Every aircraft has a limit on its capacity on how much cargo it is allowed to carry depending on its size and balance. How can you avoid paying the excess baggage fee? The best answer there is the obvious one which is that you'll have to adjust the quantity, size, or weight of the baggage within the given allowance or baggage restrictions. If not, unfortunately, the traveler is subjected to pay for the additional charge/penalty fees in order to take their baggage with them.
Most major airlines provide information or details on baggage restrictions (you may have heard of it before: the Contract of Carriage) and breakdown of the cost of these excess baggage fees directly available on their site. If this is not clearly indicated and you need specific information pertaining to your baggage, we advise you to contact the airline with your inquiry. Knowing any possibility that you may have to pay and how to pay for such penalties or extra baggage fees are both important. For example, can you pay prior to your flight or do you need to pay directly at the airport counter? By being prepared you will save time and avoid last minute surprises upon arriving at the airport for check-in.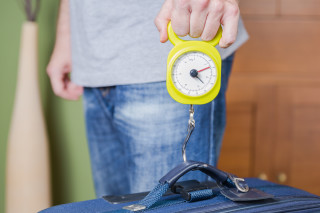 What is an overweight, oversized or odd-size baggage?
An overweight, oversized, odd-size baggage is a piece of luggage or an item that exceeds the standard baggage weight and size set by the airline(s). For example, a bag over 23 kg (50 lb) and 70 kg (32 lb) (depends on your allowance and certain routes), longboards for surfing and larger musical instruments will all fall into this category. Airlines have quantity, weight, and size restrictions for these items. If it over the allowed weight and/or size, the airline will not allow you to check in the item as in. You may be need to arrange a cargo or freight service in order to transport your item(s).
Odd-size items such as larger musical instruments are strongly advised to be stored in a sturdy case especially when checking-in for a flight. Smaller musical instruments that fit within the overhead or carry-on space will be allowed for hand-carry. Even if you think an item might fit within the overhead compartment, some airlines may advise you otherwise and ask you to check-in the item. In that case, you will also have to consider checking it in as an 'extra bag' in which you would have to pay extra for if you're over your allowed baggage allowance.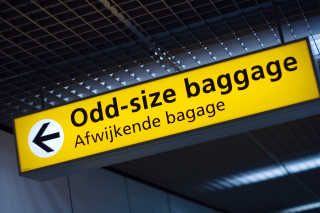 Also in regards to overweight baggage, a few airlines place a special tag indicating how fragile the bag is due to the weight. It also serves as a visible notification for ramp agents when handling or lifting the luggage into the cargo area.
Please also keep in mind that these items may not come through the usual baggage carousel. If you're not able to locate the whereabouts of where the 'oversize / odd-size' baggage pick-up is, ask the airline or airport personnel at the arrival hall for assistance.
Examples of what items airlines consider as odd-size:
sporting equipment (bicycles, skis, surfboards, golf bags, fishing rods...)
musical instruments (cellos, double bass, piano keyboards...)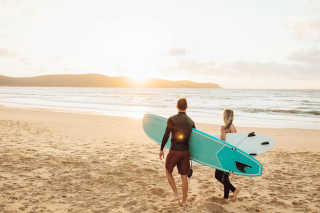 What is 'extra baggage'?
An extra baggage is any additional bag, suitcase, box that you are checking in over your given allowance. The traveller will need to pay the additional charge fee if they would like to ask the airline to transport the baggage on the flight. There are certain exceptions, especially for passengers with disabilities and for passengers with certain frequent flyer programme (FFP) status in which the airline provides a complimentary luggage allowance on top of the standard allowance.
Case 1: You are travelling with two suitcases and a golf bag, but your allowance is only for a max of two pieces of luggage, then you will be asked to pay for the additional one piece of luggage.
Case 2: You are travelling with two suitcases and a collapsible wheelchair. As you will be using a wheelchair provided by the airport, you would like to check-in your wheelchair. In this case, most airlines will accept the wheelchair free of charge.
Case 3: You are travelling where the airline provides a standard baggage allowance of 2 piece (piece concept) or 30kg (weight concept), but you are a Star Alliance 'Gold' status member. You are then entitled to an additional baggage or 22 kg (44 lb).
Case 4: The ticket you purchased or fare class does not include any baggage allowance. You would like to check-in one suitcase at the airport. You would have to pay for this extra piece of baggage.
Case 5: You are travelling with a suitcase and your dog. Unless you're dog is a service dog, unfortunately your furry companion would be transported in his/her kennel within the cargo compartment of the aircraft (AVIH) during the flight. Most airlines will accept the kennel as your checked baggage allowance, however, additional charges are applicable and you will have to notify the airline in advance with the arrangement when flying with your pet.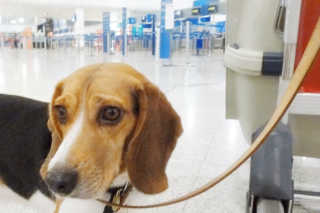 Other travel tips when checking-in your 'special baggage'
Especially when dealing with any overweight and odd-size baggage, your check-in or airline rep 'may' ask you to sign a liability waiver acknowledging the risk of transporting such baggage on the flight(s). For example, in the case of an overweight baggage, depending on how heavy it is, the baggage may be prone to damages to the baggage itself and to others during transportation. Also depending on the duration of the flight, other suitcases may be loaded on top of yours in the cargo compartment, and may damage any fragile items within your baggage due to the pressure/weight unless it is well protected.
Also when multiple airline carriers are involved in the itinerary, don't just assume the baggage rules will be the same from the first leg onwards. Once again each airline has their own set of rules, therefore we recommend you to also understand each of the airline's baggage rules, as it may differ whether it involves major airlines, regional, or low-cost carriers (LCC).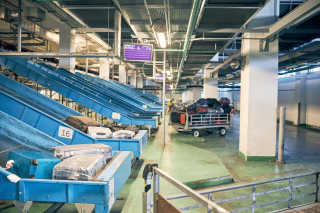 Your baggage allowance is available at the time of booking, on your ticket confirmation, and further details are provided by the airlines. So next time you're flying, make sure you're aware of the baggage rules before heading to the airport.
Speaking of flying, if you like 'bagging a bargain', then check our great flights offers. Book a ticket to your favourite destination on CheapTickets.sg!
---
Want to read more travel tips on baggage?