Winter in Victoria: an adventure of a lifetime
10 Cool things you cannot miss in Melbourne & beyond during winter
Wanting to spend this summer in a cooler environment? Well, Victoria is the perfect destination to visit! Exploring Victoria during their winter time is an adventure to do at least once in a lifetime. And to make to most out of it, here are 10 cool things you cannot miss in Melbourne & beyond during winter.
---
Winter markets & festivals
Victoria is full of markets & festivals, even more during winter, so to enjoy them to the fullest you must plan a winter trip to Victoria! Find out why you have to visit these markets & festivals during your winter adventure in Victoria:
1. Winter Night Market - Melbourne
Located in the Queen Victoria Market, Melbourne, the Winter Night Market takes place every Wednesday evening from the 1st of June until the 31st of August. Entrance is free, and you will be able to enjoy amazing street food, delicious hot beverages, great shopping, live music, and the best part, have fun at the silent disco! This is a must-experience activity in Victoria during Winter, the only prerequisite to come to the market is to be hungry and ready to have fun!
2. Winter Wonderlights - Ballarat
From the 25th of June until the 17th of July, the open air museum, Sovereign Hill, in Ballarat, hosts their Winter Wonderlights, an amazing festival which will make you feel as if you were in a Winter Wonderland. Not only you will be able to enjoy the beautiful light show when the sun goes down, but during the day Sovereign Hill is full of fun activities, delicious treats and beautiful décor!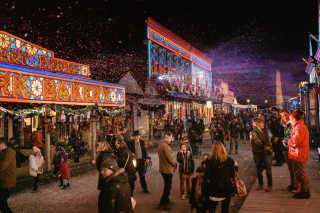 3. Borealis on the Lake - Daylesford
From the 25th of July 2022 until the 4th of September 2022, every Thursday to Sunday, you will be able to enjoy the Northern Lights in Lake Daylesford. This installation is brought to you by the activist Dan Acher, with the goal to create a space where strangers come together and connect beyond their differences. So get your blanket, sit by the lake and be mesmerized by these light installations, while immersing yourself in the colours, movements and unique auroras projected over the lake.
4. Hot Chocolate Festivals
In Australia, drinking coffee is almost a tradition, even more in Victoria with Melbourne's coffee culture. But during the winter, coffee is replaced by hot chocolate, bringing warmth and sweetneest to those cold dark days. Not only there are hot chocolate festivals during the whole month of August at the Great Ocean Road Chocolaterie, the Yarra Valley Chocolaterie or the Mornington Peninsula Chocolaterie. But there are many other places you can go to try their delicious seasonal hot chocolates like Mörk or Chokolait in Melbourne.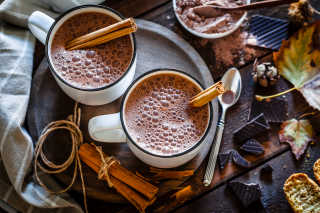 ---
Winter activities
When thinking of Australia, it's generally related to warm weather and sunny days, but believe it or not, it also has snow! So, if you want a summer a bit more chilly, Victoria is the perfect destination for you. And if you want to make the most of the snowy weather, the best time to go to Victoria would be during July and August. Here are the top winter things to do in Victoria for a cool summer:
5. Skiing mountains - Victoria
From Mount Stirling, to Mount Buller, to Lake Mountain, between others, Victoria has many places for you to enjoy a snow holiday! Plus if you're not much of a snow sports fan, every location has multiple activities for you to enjoy the snow however you like. Apart from skiing & snowboarding, you can also do a family day trip, and start a snowball fight, build a snowman, or race down the hill on toboggans. And it's a must to try one of their skiing resorts, where you can also enjoy a cozy day inside if the weather is too cold for your taste.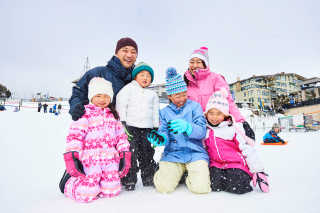 6. Alpine Nature Experience - Hotham Heights
Inspired by the French Alps, the Alpine Nature Experience in Victoria's High Country, is the ultimate winter experience in Australia, it even won the Gold at the RACV VTIC Tourism Award for unique accommodation in 2019. With overnight activities, in which you can stay in real igloos or in unique luxirious Snowdomes, to dinner experiences, including home-made mulled wine and where you can indulge in a delicious French cheese fondue as part of a 3 course dinner! The Alpine Nature Experience has many more things to do, with the goal to discover the beauty of the mountains and experience nature.
7. Winter Whale Cruise - Phillip Island
Discover Phillip Island coastline while enjoying a whale watching journey. This 4h Winter Whale Cruise will let you discover the humpback whale as well as the southern right whales. You will just need to look out for that immense blow in the distance, the smooth footprint on the water, or a glancing dorsal fin.
---
Winter musical & art
Now it's time to emerge yourself in art during this winter in Victoria. Try going to a musical or one of the beautiful light works that become alive in Victoria.
8. Hamilton the Musical & Harry Potter and the Cursed Child - Melbourne
From the end of June to the beginnings of October, you will be able to enjoy Hamilton in Melbourne, a Tony®, Grammy®, Olivier and Pulitzer Prize winning musical. This musical represents the story of American founding father Alexander Hamilton and created a revolutionary moment in theatre, with a mix of hip-hop, jazz, R&B and Broadway. A must-watch musical that has had a profound impact on culture, politics and education that will touch your heart!
If you're not into musicals, but yes into performing arts, then go watch Harry Potter and the Cursed Child in Melbourne, available from June 2022 until the 16th of October 2022. Plus if you're a Harry Potter fan, you will love this play as it plays out 19 years after Harry, Ron and Hermione saved the wizarding world! Sounds interesting right?
9. Melbourne Winter Masterpieces 2022: The Picasso Century - Melbourne
The Picasson Century represents the extraordinary career of Pablo Picasso. This exhibition features over 80 works by Picasso alongside over 100 works by more than 50 of his contemporaries. Don't miss out the chance to explore Picasso's life through its painting as well as every artist that interacted with him throughout the 20th century.
10. Light: Works from Tate's Collection - Melbourne
From the 16th of June 2022 until 13th of November 2022, you will get to enjoy over 200 years of art history through painting, photography, sculpture, drawing, installation and the moving image. Here you will see more than 70 works by artists like the great Romantic painter J. M. W. Turner, John Constable, Wassily Kandinsky and Josef Albers. This is why Light: Works from Tate's Collection is a must experience during this winter in Victoria.
---
Ready for an adventure of a lifetime? Start planning your adventure to Melbourne now and enjoy Victoria's magnificent winter. Book with CheapTickets.sg and enjoy our best flight deals!
---