Best countries for backpacking in the Americas
Backpacking in the Americas
Backpacking in the Americas is an experience like no other. While it can be challenging at times, it delivers breathtaking views, cultural enrichment and unforgettable friendships. To help you plan your next trip, we've compiled a list of the best countries for backpacking in North and South America.
Where can I backpack in the Americas?
---
Sandwiched between Nicaragua and Guatemala, Honduras is one of the poorest nations in the world. For this reason, Honduras is a great place for backpacking on a budget. The cost of food and everyday consumer products is very low. Avoid the heat and humidity by visiting during the winter, but make sure you've had all the necessary inoculations before you travel. There are some amazing towns and cities in Honduras, but one of the most fascinating is Utila - one of the country's Bay Islands.
Tip: Try the baleadas (flour tortillas) — they're delicious.
One of Central America's most picturesque countries is Guatemala. Remnants of the country's colonial past can be seen at almost every turn - in the form of some breathtaking architecture. While the cost of food and supplies is still low, the standard of living is significantly higher than in Honduras. Head to Antigua if you're looking for mod-cons, pubs, clubs, shops and coffee shops. And when you're ready to venture further afield, huge jungles and mountain ranges await. Visit during the quieter winter months in order to avoid the highest temperatures and the biggest crowds.
Tip: There are a few unlicensed bus services operating in the country, so ask locals about which services are licensed and safe.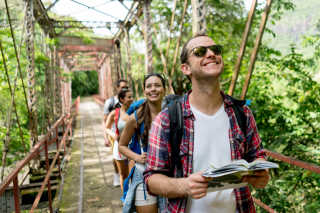 Costa Rica may be a relatively small country, but it's one of the most popular among backpackers. Rich in flora and fauna, this proud Latin nation is home to the very best Mother Nature has to offer. You have the option of sticking to the many coastal trekking routes or venturing into the vast inland jungles. Avoid the wettest and hottest times of the year by backpacking through Costa Rica between December and March.
Tip: You'll need a slightly higher budget in Costa Rica than in most neighboring countries, as the cost of living is relatively high.
Belize is the only country in Central America with English as its official language. Nestled on the Caribbean coast between Guatemala and Mexico, Belize has it all. Trek through the rainforests and explore the best that Mother Nature has to offer. Or if you're in the need of a little relaxation, kick back on one of the country's many idyllic, white-sand beaches. Make sure you take the time to visit Caye Caulker during your visit. This beautiful little island is almost completely untouched by modern life - making it the perfect place to drop off the grid.
Tip: Transport runs at a snail's pace in Belize, so leave plenty of time to get to your destinations.
If you want to avoid crowds and immerse yourself in the local culture, consider a backpacking trip in El Salvador. Life here is laid-back and simple. While you won't find the nightlife and luxury you might find in neighbouring countries, you'll get to experience something authentic and peaceful. There are many sleepy, colonial towns scattered throughout El Salvador. If you visit just one, make sure it's Suchitoto. You'll see very few tourists and fellow backpackers, but you'll see a way and pace of life that is very rare nowadays.
Tip: El Salvador is a great place to learn the art of surfing — check out Playa El Tunco, where you'll find dozens of instructors and schools.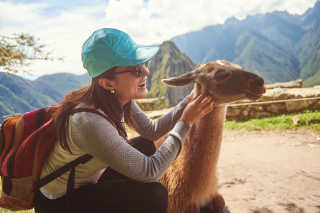 Colombia has enjoyed something of a renaissance in recent years. Not only is it more welcoming than ever before, but it's safer too. At every turn, you'll find beautiful landscapes, luscious rainforests, and breathtaking mountain ranges. And some of the world's most beautiful waterfalls can be found in Colombia. When you're ready to relax, there are countless bars, restaurants, and leisure activities to enjoy. One of the most popular stop-offs among backpackers is the city of Buenaventura. Lively bars and restaurants line the waterfront promenade, and the trappings of modern life are everywhere. The city is surrounded by tropical rainforests and natural springs, so Mother Nature is never far away.
Tip: Don't miss the chance to experience Carnaval de Barranquilla — the second largest carnival in the world.
No backpacking trip to the Americas should pass by without a visit to Peru. This phenomenal country is home to one of the world's most illustrious backpacking routes - the Inca Trail. Entertainment, leisure and luxury can be found in the capital city of Lima and the nearby town of Mancora. But nothing beats the experience of hiking along the Inca Trail to Machu Picchu, which is one of the New Seven Wonders of the World.
Tip: Book a place on the Inca Trail in advance, as only around 500 permits are issued for each day.
Bustling with art and museums, gorgeous architecture and some incredible street food, Mexico City is not to be overlooked. The main city itself is vibrant, with mole and mezcal ready to keep you fed and watered, but it's also a great base for day trips. From diving on the barrier reef of Cozumel, to hiking the scenic mountain pass of Paso de Cortes, Mexico has diverse and beautiful landscapes to engage even the most inquisitive minds.
Tip: You'll find lots of other backpackers around the Zócalo which is the name for the central square in Mexico City. You'll also find seasonal activities there such as ice skating, free concerts or even protests.
Canada is vast, and it's likely that for every place you visit you hear of two more that you'd like to explore. Though Vancouver is a little more expensive, it's got a brilliant mix of skiing, hiking and beaches. Granville Island has some great cheap eats to help travel on a budget, giving you money to explore the night lift around the water-front.
Tip: To really experience the great outdoors in Canada, why not book a night in one of the National Parks to sleep under the stars?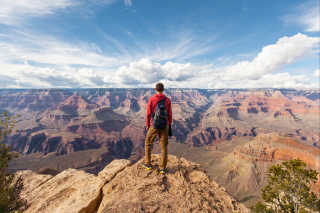 The home of the brave and the land of free, the United States has everything from Yosemite National Park to Utah Mountains, but for a really breathtaking view, hit the statae of Alaska, namely the Kesugi Ridge in Denali State Park. You'll see the US's tallest mountain, working up a thirst to enjoy some of the brewing companies in the evening. Alaska is notoriously expensive, but planning ahead, it can be done on a budget. Consider saving by travelling in the spring or autumn.
Tip: Be sure to pack bear spray and research a route ahead of time to make sure it's not closed due to flooding, or an excess of bears!
---
To get the most out of your next backpacking adventure, it's best to plan your travel arrangements in advance. Search for the best flights with the help of CheapTickets.sg.
---
The best countries for backpacking in the world