What is Loy Krathong Festival?
Join the Thai locals to celebrate the remarkable festival of lights - Loy Krathong. Experience the magical moment when Loy Krathong festival go into full swing once the sun goes down with hundreds of brightly-lit lanterns rising to the sky and hand-made boats floating down the river.
There are various origin tales for this event. Some believe that Krathong was held to pay respect to the Water Goddess while some believe the idea behind krathong is to put all your misfortunes in a boat, and allow them to literally float away. If your luck is good, your candle remains lighted until your Krathong is out of sight. Some will place personal belonging like nails and strands of hair as a symbol of their sins being washed away.
When is Loy Krathong?
Based on the Thai Lunar calendar, Loi Krathong is celebrated on the full moon of the 12th month, which means the exact date of the festival changes every year. This year's Loy Krathong falls on the 3rd November 2017.
This event is held annually, featuring various activities throughout different cities such as boat racing, lantern procession, beauty contest, parades and many more. It is also very popular amongst the romantic couples, as this is the season to celebrate their love and to wish for lifetime happiness. Couples will be seen releasing Krathong(boat) or Khom Loy (lantern) together.
Where to celebrate Loy Krathong in Thailand?
Check out the top 4 cities that celebrate Loy Krathong.
1. Popular Loy Krathrong Spots in Chiang Mai
Since the Loy Krathong festival takes place after dark, you can first explore the northern Thailand in the day by visiting the charms of the old city, temples or visit the Elephant Farm by learning how to be a mahout. The unique experience lets you interact with the elephant upclose - bathing and brushing the gentle creature, learning elephant commands and taking the elephants for a swim.
When dusk falls, head to the Saphan Nawarat Bridge that connects Tha Pae Road on the western side of the river with Charoen Muang Road on the other side where the festival begins. In Chiang Mai, the locals celebrate Yi Peng (which coincides with Loy Krathong).
Top Loy Krathong locations:
• Nawarat Bridge
• Iron Bridge (Sapaan Lek)
• Wat Chai Mongkhong
• Wat Ket Karam map
• Chiang Mai Night Bazaar
• Chiang Mai Municipality
• Lanna Dhutanka
Tip: Make sure to cover shoulders, knees and chests if you want to explore the temples.
Search for the cheapest fare to Chiang Mai here.
2. Popular Loy Krathrong Spots in Chiang Rai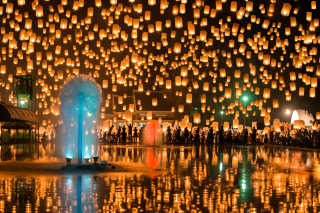 When you're in the north, challenge yourself to hike a mountain in Thailand - Phu Chi Fa. It is one of the most breathtaking and top sunrise location in Thailand. For the less adventurous, you can soak away in a natural hot spring such as Pong Phrabat or Huay Mak Lium hot spring. Don't forget to get some blessings by visiting Wat Rong Khun and Wat Prha Kaew.
When the sun sets, the Loy Krathong festival in Chiang Rai will be held at Soan Thong Park (the old jail).
Top Loy Krathong locations: Mae Fah Luang Bridge
Tip: You can easily buy a Krathong at the street stalls.
Search for the cheapest fare to Chiang Rai here.
3. Popular Loy Krathrong Spots in Bangkok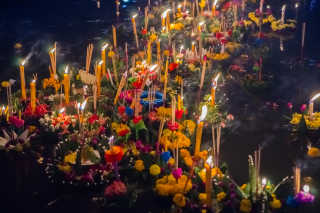 The Chao Phraya River is the main area for Loy Krathong celebration with bridges and buildings decked out in bright lights for the event.
Most people flock to Asiatique - the riverfront night market for shopping, entertainment and eateries, which at the same time, they can float their own krathong into the river.
Top Loy Krathong locations:
• Rama VIII Bridge or Rama 8 Bridge
• Lumpini Park
• Bueng Rama IX
• Wat Saket (Golden Mount)
• Local Universities: Chalalongkon Uni, Thammasart Uni, Kasetsart Uni.
Tip: Be warned that traffic in the area will be very bad and there will be long queues to take the shuttle boat in front of Saphan Taksin BTS Station.
Search for the cheapest fare to Bangkok here.
4. Popular Loy Krathrong Spots in Phuket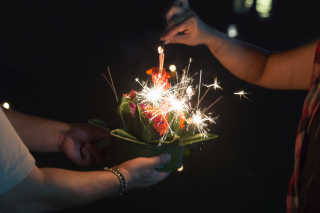 For day activities, explore iconic beaches in the day with island hopping activities and discover islands like Phi Phi, Phang Nga Bay, Koh Racha Yai and Koh Hae. Spend an afternoon exploring sea caves, kayaking, snorkeling and admire the turqoise water.
Head back to Phuket Town and prepare the night to join in the fun at Loy Krathong festival, which is celebrated at Sapan Hin lake (in Phuket town).
Top Loy Krathong locations:
• Sapan Hin
• Bang Wad Reservoir
• Lake at the northern end of Karon Beach.
Tip: When buying a krathong/float please make sure that it is one made of natural materials that will biodegrade rather than plastics or styrofoam.
Search for the cheapest fare to Phuket here.