What is Economy Class Syndrome?
What is Economy Class Syndrome?
Over the years, you may well have heard about the association between blood clots and flying, especially when you fly in Economy Class. But is there any truth in this, and is there anything travellers can do to stay safe when they fly? In this article, we'll try to answer the question what is Economy Class Syndrome. The bottom line is that the risks are low, but there are some things travellers need to know.
What is Economy Class Syndrome?
Economy Class Syndrome (ECS) is a condition of the circulatory system which has been associated with flights in economy airline seats since the term was coined in 1977. Also known as 'Venous Thromboembolism' or - more commonly - 'Deep Vein Thrombosis' (DVT), ECS can result in the formation of blood clots. These clots can potentially migrate to parts of the body where they can cause pulmonary embolisms or problems in the brain. Because of this, the condition has received a lot of attention in recent years and airlines need to be aware of ways to mitigate the risk.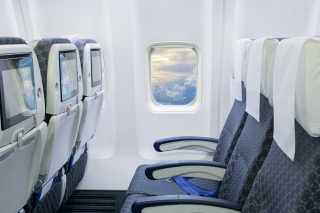 What causes Economy Class Syndrome?
The science is never 100% certain, but it seems that ECS is caused by airline passengers sitting in the same position for long periods. Eventually, pressure can build in extremities like the lower legs or arms. This pressure can then cause blood to clot, which may start to move through the circulatory system. The sitting position can also exacerbate the problem by compressing veins behind the knee, while the dehydrating effect of sitting in airplane cabins can make blood more susceptible to clotting. Put all of those factors together and you have a recipe for more frequent DVTs. However, don't panic. Stats suggest that clots develop at a rate of around 1:6000 flights. This means that you probably won't encounter any issues, but that a small risk remains. And as that risk can lead to major health problems, it's wise to know how to reduce that risk as much as possible.
Are there any warning signs for ECS?
You may have experienced the early signs of Economy Class Syndrome without actually developing a full-blown clot. For example, symptoms can include heightened anxiety levels and cold sweats without any alternative explanation. Changes to your heartbeat and chest pains can also be ECS warning signs, but the most common symptom is dyspnea (shortness of breath). According to the Japanese Society of Pulmonary Embolism Research, dyspnea manifests in 73% of ECS cases, so it's something to look out for in both yourself and your fellow travellers. Other experts point to swollen ankles as a very early warning sign. So stand up every hour or so and have a stroll down the aisle if you are worried.
Who may have higher risk factors to ECS?
Not everyone has the same risk of developing ECS. However, there are some categories of passengers who are thought to carry a higher risk. This includes:
those who have previously had DVTs or embolisms
cancer sufferers
anyone with a propensity to clot easily
pregnant women
heart disease sufferers
extremely overweight individuals
those who have recently undergone surgery
those taking contraceptive pills
those who have a history of swelling easily
smokers: effect that smoking has on the circulation.
Other than those categories, risks will be higher on longer flights and in situations where passengers have less scope to stretch out and move around the cabin.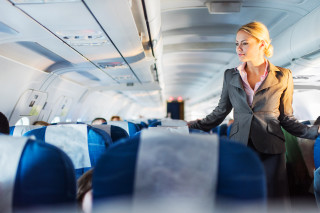 How to reduce the risk of developing Deep Vein Thrombosis
The good news is that researchers have been studying ECS for over 40 years and are reasonably confident about how to keep the risks low. For starters, hydrating regularly during flights is essential. As we noted earlier, dehydration can make blood more likely to clot and cabins tend to have a dehydrating effect. So be sure to take fluids on board whenever possible. The way you dress can also help. For instance, wear loose fitting clothes and avoid tight garments. Staying mobile is also advisable. A few calf stretches or heel raises every 30 minutes or so will help to keep the blood flowing in your legs - ground zero for clot formation during long haul flights. Experts also recommend avoiding certain things to reduce the risk of ECS. Cut back on alcohol during flights and try to resist the urge to take sleeping pills. Both are associated with elevated ECS risks. Some people suggest that taking aspirin before flying can be a good move, as the pain reliever is known to prevent clotting. Finally, compression socks are a worthwhile addition to your hand luggage as they can help to keep blood moving in the lower legs.
What exercises are recommended to combat ECS?
Aerospace medicine expert, Dr. Stan Mohler, recommends walking down the cabin aisle every 20-30 minutes as a basic mitigation strategy. If you can't get up, try to tense the muscles in your lower legs briefly before relaxing them. Then do the same for the muscles in the upper part of your legs. Circling ankles for 30 seconds works well, as does pressing your toes into the floor for a couple of seconds. Whatever you do, don't do nothing. Circling your heels or stretching your calves doesn't take much energy or time and the benefits can be massive.
Economy Class Syndrome is actually misnamed. It's something that can be experienced on short-haul flights, in cinemas, hospital beds, trains, and even offices. As we've seen, it's also a condition that can be mitigated and avoided in most cases.
So don't feel anxious about booking your flight with CheapTickets. Take action and reduce the risk of ECS and you can fly anywhere in the world without incident.
---
Want to read more travel tips?