21 Love Lock Destinations in the World
21 Love Lock Destinations in the World
Some believe that a love lock represents a sign of commitment to their special partner with the world. Attaching an engraved padlock to a bridge and throwing away the key shows how they are truly locked together as a couple.
Why not plan a romantic holiday by visiting one of these 21 love lock destinations in the world with a history of lovers sworning to be true to each other with a special lock?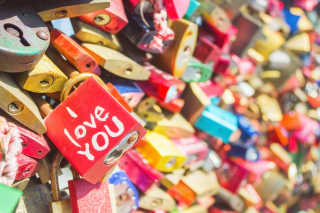 ---
Love locks began a century ago in Vrnjačka Banja, Serbia when Nada, a young woman fell in love. Her lover was untrue and Nada died of heartbreak. Inspired by this tragedy, local women started entwining their names with their loved ones on padlocks and fixing them to Most Ljubavi (Bridge of Love).
2. The Love Lock Wall in Hungary
Another possible root of history behind love locks is said to have started in Pécs, the fifth largest city of Hungary in the 1980s. On the way to the see the Sts. Peter and Paul's Cathedral Basilica, or Pécs Cathedral, don't forget to stop by at The Love Lock Wall. In order to prevent various padlocks to be placed all over the city, the authorities have designated a specific area in the downtown area for lovers to showcase their love for one another.
The Stan Veterans Memorial Bridge, St. Louis, United States has a more recent history as it was only in 2013 that a new bridge was named after a local baseball player and soon became a lover's destination.
On Penang Hill, Malaysia the history of love locks is even more recent, starting on Valentine's Day in 2014.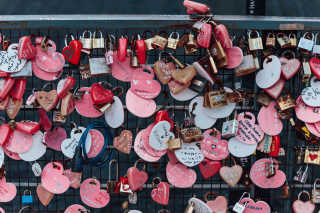 ---
Gretna Green has long been the destination of eloping couples. Its romantic Courtship Maze is shaped like interlocked wedding rings and has plenty of space for padlocks.
Some destinations actively encourage love-struck tourists to visit, including Cologne's Hohenzollern Bridge which is heavily laden with colourful padlocks.
Padrão dos Descobrimentos in Lisbon has an innovative LOVE sculpture besides the famous monument designed to hold thousands of padlocks.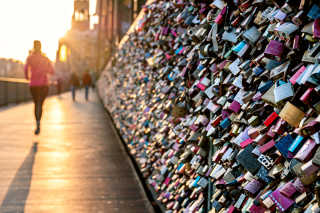 ---
Rome is definitely a city of love. Thousands of couples latched their padlocks to the Ponte Milvio (Milvian Bridge), a historical bridge, and dropped the key into the River Tiber below, but a new law was passed in 2012 that forbids visitors from performing similar actions. Violation will result in a €50 fine.
The Brooklyn Bridge in New York is undoubtedly a romantic spot, but attaching your padlock comes at the risk of a fine of USD $100. However, other destinations actively encourage love-struck tourists to visit.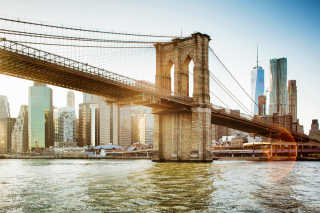 ---
The N Seoul Tower in Seoul shows that the language of love is universal with words in languages from around the globe while looking down at the spectacular panorama view from Namsan Mountain.
Inscribe words of love on padlocks are found on pedestrian bridges in the Malá Strana District of Prague.
Love locks can be found on the iron chains at the top of Mount Huangshan of Anhui province, China along with a folktale of forbidden love once between two lovers. Not only do people place love locks as a symbol of their eternal love for one another, but other locks representing their prayers for happiness and health for their loved ones also can be found here.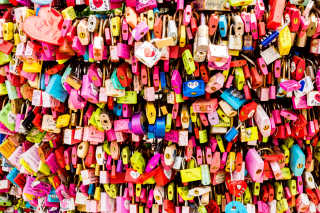 ---
Copenhagen promises that padlocks on the Bryggebroen Bridge will never be removed.
A massive art installation at the Tank House Lane Distillery District in Toronto spells out the word 'LOVE' and a heart.
Alongside the Luzhkov Bridge in Moscow, metal trees have been constructed to represent the strength of eternal love.
And, what could be more so than Juliet's House in Verona. Fix a padlock to the gate leading to Juliet's balcony for a happier ending than Romeo and Juliet had.
In the heart of Montevideo is The Locks Fountain. Attaching a padlock here will ensure your love's flame burns forever while
There are few cities as romantic as Amsterdam and as the sun goes down over the city, couples used to stroll over to the 17th-century Staalmeestersbrug Bridge to attach their padlocks. Amsterdam authorities, however, have been removing the padlocks as it to prevent damage on the historical bridge. Visitors are encouraged simply enjoy the beautiful landscape that surrounds the famous bridge, as well as, the Zuiderkerk tower in the background.
The city of Paris was once famous for two love lock locations, its bridges near the famous Notre Dame Cathedral, the Pont des Arts and Pont de l'Archevêché bridges. However, due to the damage to the bridge from the weights of all the padlocks (padlocks are no longer allowed on the bridges), some of these locks have been transformed into a beautiful piece of art by Carmen Mariscal. This 'house-shaped' monument is displayed in front of the Palais-Royal, former royal palace.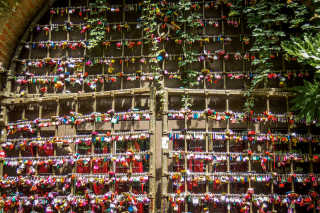 20. Butchers' Bridge in Slovenia
Built in 2010 and right over the Ljubljanica River in Ljubljana, the keylocks on the Butchers' Bridge acts as part of a piece of art. The bridge is also decorated with sculptures of figures from ancient Greek and Christian/Jewish mythology by sculptor, Jakov Brdar.
21. Puntan Dos Amantes (Two Lover's Point) in Guam
The Puntan Dos Amantes (or Two Lover's Point) is located right by the seacliff in Tamuning, Guam. This location is named after the tale of two lovers who were forbidden to wed to one another, but promised their eternal love by jumping into the sea. In the modern time, many couples have visited the area to show a similar commitment of their relationship by leaving a padlock at the point. The stunning ocean view is also another reason why this is has become a popular tourist attraction.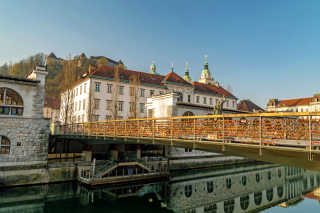 ---
---
Once the time is right and when romance is in the air, plan for that special trip with your partner to amazing worldwide destinations with CheapTickets.sg.
---
Want to read more?