Packing tips for road trips
Packing tips to hit the road
Packing for a road trip can be quite difficult, even more when you need to fly & drive. Always asking yourself "What to bring? What not to bring? What is a necessity and what is not?" But don't worry, here you will find out what are the things you should & shouldn't bring to a road trip. So keep on reading and start preparing your bags!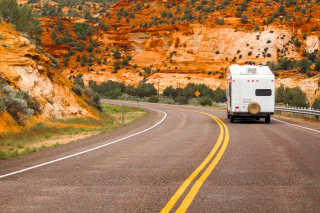 What to bring for your road trip
As you will not have a lot of space in the car or camper, you should pack light for your road trip. You could pack as if it was a weekend getaway, following the tips of matching the same pants with different tops to save space and planning your outfits before hand. But there are some things you should pack to help you be more comfortable on the road, you can bring these utilities from home, or if you are going to fly & drive, you could also buy it at the road trip's departure:
Reusable utilities
These utilities will make your long car rides better, these are some things not everyones thinks of but it's good to have them with you on a road trip. Not only will they make your long car rides more comfortable, but it will also be sustainable.
Having a (or multiple) 1-liter water bottle will save you some money as you don't have to keep buying plastic ones, you can just refill them wherever you can. Or buy a 1-liter plastic bottle and reuse until the end of your trip.
As you might eat in the car, you might order take-away food (a lot), so having your own cutlery would be perfect. You can get tired of the wooden cutlery taste, or how the plastic cutlery doesn't actually work, and so having your own cutlery, that you can wash an reuse, doesn't only help the environment but it will save you a lot of nervewracking moments while eating.
Reusable trash bags, or environmentally friendly trash bags, they will help keep the space in the car tidy. Like this you are cleaner and do not end up with a mess to clean at the end of each trip.
And, if you want to learn more about eco-friendly travel accessories read this blog.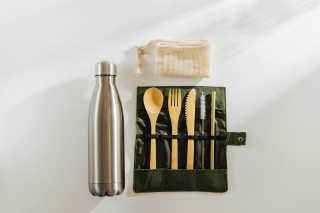 Tech accessories
In a world full of technological devices, for road trips it might be necessary to bring your own tech accessories as the cars might be old or not technological developed enough. They might not have USB ports or AirPlay/Android Auto, so you should always bring:
An AUX cord to be able to connect your phone to the car speakers, or a speaker in case the car does not have a AUX port. Some might not think this is important, but music during car rides is a necessity, even more being able to play whichever music you want.
Portable chargers to always have your phone at 100% battery, as they are very important in case something unexpected and undesirable happens (knock on wood that it doesn't), you are able to make calls. Meaning that you need to be sure that your phone number works in the country you're in, and that you don't waste your data to be able to reach the world in case you need it.
Portable GPS, they might be a bit pricey, but if you are a frequent traveller that rent cars wherever you go, then this is just what you need. For road trips it's very necessary, as as said before, the cars might not be technological advanced and you don't want to waste all your data on Google Maps. Check out other things that are worthy to spend money on if you are a frequent traveller.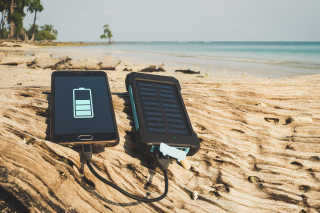 Emergency utilities
Last but not least, these are the two most important things to have in your car when doing a road trip:
Car tools, if you are doing the road trip with your own car, make sure the tools you have are working fine, if not replace them. But if you are in a rental car as you decided to fly & drive, ask the rental company to include the tools if possible, just in case you pop a tire or have another little incovenience. And, don't forget to bring someone that knows how to use them, or bring a little manual with you so you're not clueless when it come to fixing the problem.
The second most important thing is medication and a first aid kit. Always have paracetamol with you, as out of nowhere you could get car sick. And the first aid kit is always nice to have in case (knock on wood) something happens where you might need it.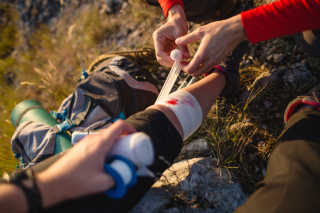 What not to bring for your road trip
Now here is what not to bring when packing for your road trip. As said before you should pack light, so not a lot of clothes it's obvious, but there are a couple of things to keep out of your luggage when packing.
Jewellery or luxury items: only bring the ones you can carry with you whenever you leave your car. This is mostly for safety, as most of the time, all your things are going to be in your car, and someone might open it and steal what you have (knock on wood that it doesn't happen but it could). Because of this you don't want to travel with luxury items, or expensive things, only with the ones that you can keep close to you at all times.
Food that can go bad: like milk or dairy products. You might forget you have them, or not finish them in one day, so as you don't have a fridge they might go bad quite quickly.
Flammable objects: when going from town to town you might stop to sightsee a monument or landscape, which means you will leave your car parked without any surveillance. If it's a sunny and very warm day, the car will get warm and flammable objects might be activated when receiving the sun rays directly. So to not worry about that it's always better to just not bring them with you during your road trip.
Pets: this part depends mostly on the person and the pet. Travelling with pets can be quite complicated, even more when doing a fly & drive trip. You would need the right documents and all for the flying part, but then for the driving part, you will need to stop to let them do their necessities, and maybe being so long in a car might make them feel dizzy and throw up, which is something you wouldn't want if you're using a rental.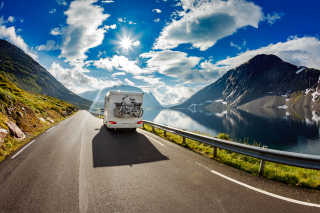 Little reminders to know when packing
Now here are little things you need to remember when packing for your road trip.
Don't forget your driving licence, it might be obvious but if you're flying & driving you might be thinking more about your passport than your diving licence.
Before the trip, stop and get your all the snacks. Like that you won't need to stop everytime you want a little snack.
Always have a good vibe. If you're feeling mad or sad, try to get it out of your head, maybe play a happy song. Don't let your negative feelings get over you.
Choose the right people for the road trip, even more if it's a long one. Just imagine being in a car with someone you know but don't like 100%, after a certain period of time anything they do can bother you, and then the road trip is not fun anymore.
And lastly, have fun! Remember this is supposed to be a fun experience and not a stressful one. So just relax and hit the road!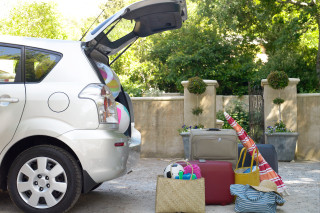 ---
Are you ready for your next road trip adventure? If you're planning on doing a fly & drive, check out our best deals for flights, and also rent your car with CheapTickets.sg, so you have your flight and car ready at once.
Now it's time to start packing and planning the best road trip you will ever do!
---
Don't know where to go? Check out these road trip itineraries