Best countries for backpacking in Europe
Best countries for backpacking in Europe
The next time you're backpacking around Europe, focusing on one or two nations can be more rewarding than simply hopping from capital to capital. Our list includes the Netherlands, Eastern Europe, France, Italy and Germany. And when it comes to visiting the best countries for backpacking in Europe, our top tip is: have fun, and pack an eye mask for a quick nap between trains.
Where can I backpack in Europe?
The Netherlands: the backpacker's back yard
The Netherlands has been catering to backpackers for decades. Amsterdam has plenty of well-established hostels like The Flying Pig, just a few minutes from the train station. The town is also small enough to explore without shelling out on public transport. Amsterdam, The Hague, Rotterdam and Utrecht all have bike rental services at railway stations, town centres, and often at your place of accommodation as well. The weather can be uncertain out of high season, so we recommend throwing yourself into the whole summer backpacker experience.
Raise a stein to backpacking in Germany
During the summer season, Germany has a backpacking scene perfect for students on a budget. In Berlin, prices for food and lodgings compare well with other European capitals, and there are some very well appointed hostels like The Circus in the city centre. Freiburg im Breisgau is the centre of the Black Forest hostel scene, handy for exploring nature and sights like Freiburg cathedral. And don't overlook the West Pomeranian coast. Old seaside resorts like Heringsdorf might not have many hostels, but expect picturesque guesthouses galore.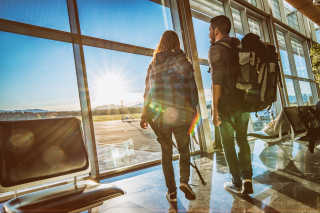 Bohemian rhapsody: hitting the road in the Czech Republic
The Czech Republic has well over 150 hostels altogether, although you might have less choice out of season. In Prague, a typical place to stay might be the Dream Hostel just over half a mile from the Old Town. Other backpacker-friendly towns are Brno and Olomouc, but our top tip is to visit Ceske Krumlov in South Bohemia. Once home to painter Egon Schiele, it's overlooked by a beautiful castle complete with bear pit. You'll find hostels ten miles away in Ceske Budejovice. Most cafes and eateries have free Wi-Fi, but remember to leave a 10% tip.
Hungary offers a particularly idyllic backpacking experience. There are around 60 hostels in Budapest alone, including the highly-rated a&o Budapest City. But to really discover Hungary, take the Circle Line riverboat along the Danube Bend. Stops include the castle town of Visegrad, and there are campsites along the way. When camping by the Danube, remember to take bug spray or thick netting as the mosquitoes are huge and ferocious. Summer is great for backpacking through Hungary, but you can also try late spring and early autumn.
Capers in sunny Spain
There are over 800 affordable hostels spread across Spain, a country with something for everyone whether you're into the beach, nature, the club scene or historic cities. You don't have to spend a penny to enjoy the amazing architecture of Barcelona, from Gaudi's masterpieces to the Palau de la Musica Catalana. The capital Madrid, the elegant old town of Seville and the Basque centre of Bilbao all offer lots of well-reviewed hostels for backpackers. With reliably dry weather, go early or late in the season to avoid the intense summer heat.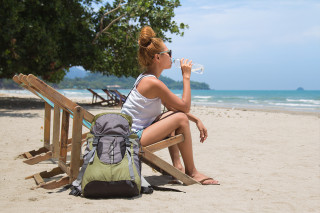 An Italy itinerary
There's so much to see in Italy, it's hard to take it all in with one backpacking trip, Central Italy offers Rome, Florence and the vineyards of Tuscany. Or you could wander in the north from the fashion capital Milan to Venice and the old world charms of the Adriatic coast. Alternatively, focus your attention on the south - Naples, the Amalfi Coast, with a hop over to Sicily. If you're backpacking south, spring and autumn are good, but they can be damp and foggy north. Keen to check out some beautiful church art? Remember to pack a skirt or trousers (not jeans) that you can slip on over your walking shorts.
Footloose in France
France has such a diversity of regions, landscapes, food and wine, you'll never tire of it. You'll probably want to begin with the museums, boulevards, and cafes of Paris. (If you're heading to the Louvre, look out for free or reduced entrance fees on some evenings.) Perhaps combine a visit to the capital with a tour of the castles and wineries of the Loire valley. Should you be planning a hike in the French Alps or Pyrenees, stick to high summer, but many say that Paris is best in the spring. Is art your passion? Then trek through the South of France in the footsteps of the post-Impressionists. Wherever you decide to go, check out flight and accommodation deals from CheapTickets.sg.
---
The best countries for backpacking in the world