Top 21 Desserts Around The World
Top 21 Desserts From Around the World
Sweet or savoury? Did you know that in the US there is a National Dessert Day, which is celebrated on the 14th of October?
Every country has their own unique way to sweeten up your travel. If you have a sweet tooth and you're looking for some new treats to try out, we have compiled a list of the best desserts from all around the world!
What are the best desserts in the world?
Traditional Desserts
Unusual Desserts
Unique Desserts
---
Traditional Desserts
1. Ais Kacang, Malaysia
Nothing beats a sweet treat to combat the heat! Ais Kacang is a wildly popular street food dessert in Malaysia, but also in Singapore. With a base of shaved ice and coloured syrup, this dessert has a variety of additional toppings including red beans, sweet corn, peanuts, aloe vera, fruits, ice cream, grass jelly, nata de coco and so much more (basically, you can get creative with the toppings).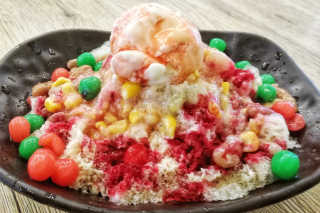 2. Chè Bà Ba, Vietnam
When you think of comfort food, chè bà ba is exactly that in Vietnam. This traditional delicacy is made of coconut milk, which gives the soup base a rich creaminess. Then there are other ingredients in the soup: tapioca pearls, sweet potato, cassava and taro. If this doesn't sound sweet enough, it is common to add grass jelly to the mixture.
3. Yatsuhashi, Japan
Yatsuhashi is one of Kyoto's famous and traditional sweets which will melt the heart away to anyone who loves both cinnamon and mochi. There are two types of yatsuhashi: 'katayaki' (hard-baked) and soft 'nama' (raw). The hard-baked 'katayaki' types are cinnamon cookies shaped like a bridge, whereas the soft or 'nama-yatsuhashi' are triangular shaped with some type of sweet filling. Traditionally cinnamon or matcha green tea mochi is filled with sweet red bean paste, but in recent years, you can find many other mochi flavours, including black sesame, chocolate, cherry blossoms, mango, cider, etc.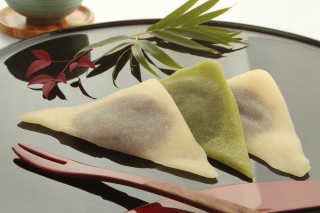 4. Mung Bean Cake, China
A mung bean cake is a traditional pastry in China made of lightly sweetened mung bean paste. It is served cold, which makes it a perfect dessert to be eaten in the summer period. It is said that these cakes have healing properties on the body, keeping it healthy during the arrival of the mid-summer heat. Not to mention, they're often made in moulds that give it's beautiful shape and also often vary in colour.
5. Om Ali, Egypt
Egypt's favourite dessert is legendary in it's own way. Some claim that after a victory, this ancient recipe was distributed to the people of the land by the Sultan of Egypt's wife, Om Ali (which is the literal translation of 'Ali's Mother'). Her name seems to have stuck to this dessert ever since. Om Ali is a delicious bread pudding made of blended puff pastry which is packed with raisins and different kinds of nuts. Nowadays, it is still regarded as an Egyptian staple.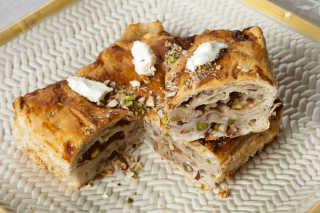 6. Pineapple Cakes, Taiwan
Taiwan is a major producer and exporter of pineapples, which makes sense as to why this next dessert has become a national staple. Pineapple cakes (鳳梨酥) are a Taiwanese crumbly pastry with a sweet pineapple jam filling. This treat is often given as a gift, as they are the symbol of good fortune in Taiwan. In fact, the word 'ong lai' (pineapple), in the Hokkian dialect of Taiwanese, is pronounced the same as 'prosperity has arrived' in Mandarin.
7. Bibingka, Philippines
Who wouldn't want to indulge in this warm, cosy treat? Bibingka is a glutinous rice cake enjoyed during the winter months in the Philippines. It is baked over charcoal in a clay pot lined with banana leaves. The sweetness of the rice cake is perfectly balanced by the salted duck egg and cheese topping- this combo might sound strange to some of you, but Filipinos absolutely love it.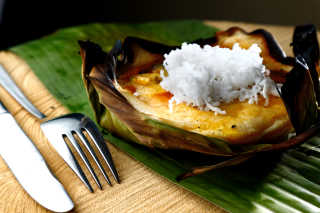 Unusual Desserts
8. Tavukgöğsü, Turkey
At a first glance, this delicacy from Turkey may look somewhat similar to a tiramisu. If that's what you thought, it may come as a surprise that the main ingredient in this pudding is, in fact, chicken! Hold on, before you choose to pass on this one, it is actually quite fascinating to know that the Tavukgöğsü was served to Ottoman royalty back in the 1400s. This dessert is made of finely ground chicken, mixed with milk and sugar and topped with a dusting of cinnamon- the combination of these ingredients work together in such a way that the taste of chicken is almost undetectable. So… chicken for dessert, anyone?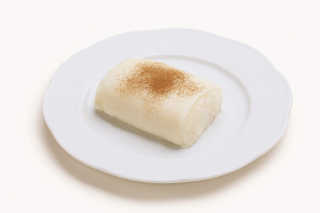 9. Lolly Cake, New Zealand
This dessert is just as great as it sounds- especially if you're a huge sweet tooth. A lolly cake, or a lolly log, is a no-bake cake full of chewy goodness; a staple at children's birthday parties in New Zealand. The secret ingredient? Soft 'lolliy' pieces (candy/sweets), most of which are eskimo candies or fruit puffs. These sweet treats are then mixed with condensed milk, coconut, butter, and malt biscuits. There's no doubt that Kiwi's love their candy.
10. Seffa, Morocco
This next dessert might be messing with the rules of this list, as it isn't exactly a dessert but more of a 'dessert starter': meaning, it is eaten after a meal and before dessert. The standard base of Seffa consists of either of the following carbs: vermicelli noodles, rice or couscous. A savoury sweet onion sauce is then poured over and topped with icing sugar, cinnamon, raisins, and ground almonds. In Morocco Seffa isn't your standard everyday dessert but something that is eaten at celebrations and festivities.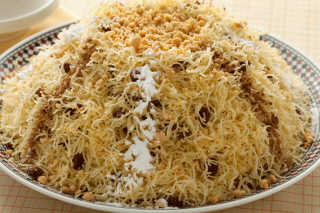 11. Deep Fried Mars Bar, Scotland
This is probably the number one dessert that people wish had less calories. People in Scotland are notoriously known for having a sweet tooth. With their obsession with fish and chips, it isn't a surprise that a Scottish chip shop came up with this fried rendition of a Mars bar in 1932. You might wonder what the process is of making this unique snack. Well, it's kind of a no-brainer: a Mars bar is covered in a typical frying batter (a mixture of flour, eggs and milk) and immersed into boiling oil until it is crispy all over. This dessert is heaven for those who have a either a chocolate or deep fried food addiction.
12. Trdelník, Czech Republic
The trdelník, popularly known as a chimney cake, has become a staple of Czech and Hungarian street food. It is made of long strips of sweetened dough that is rolled in granulated sugar. These sugary dough strips are then wrapped around a stick, forming it's iconic chimney-like structure, and cooked over hot coals. They are often filled with ice cream or whipped cream, and topped with cinnamon and walnuts.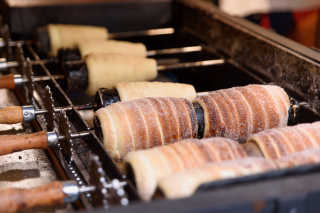 13. Chocolate Covered Crickets, Thailand
If you like your chocolate with a little 'crunch', this might just be the dessert for you! It may come as no surprise that crickets are common in Thai street food culture, but what you probably didn't know is that this savoury snack can easily be transformed into a tasty dessert simply by coating these bad boys in dark chocolate. Some say these chocolate covered crickets are comparable to chocolate covered popcorn.
14. Shindis Shechamandi, Russia
Shindis shechamandi is a type of kissel - a fruit soup that is common in Central, Northern and Eastern Europe. This soup from Russia is made with cornelian cherries soaked in sweetened juice of berries, thickened with either cornstarch, potato starch or arrowroot. This dish can then be served either warm or chilled, depending on your preference.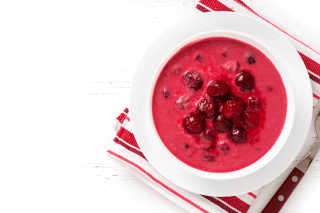 Unique Desserts
15. Tompouce, Netherlands
Perhaps you might recognize this as a 'mille-feuille', but it is in fact a Dutch variation of the classic French dessert. Tompouce is a tart filled with sweet custard and topped with a glazed pink layer of pink icing. In the Netherlands, this treat is often served with tea or coffee. A con of this dessert is that it is extremely messy to eat, so don't tell us we didn't warn you.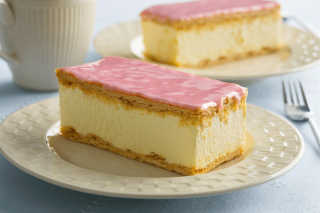 16. Papanasi, Romania
If you've never thought about putting cottage cheese in your doughnut batter, maybe now's the time to try. Papanasi is a sweet and savoury doughnut traditionally made from branza de vaci, which is a cow milk cheese from Romania. These savoury doughnuts are often served with a dollop of creme fraiche and jam on the side.
17. Krapfen, Germany
These little doughnut balls are a lovely treat enjoyed on New Years Eve in Germany, however they do stir up much debate among the Germans. Most Germans call it 'berliner' or 'krapfen', however people specifically from Berlin call them 'pfannkuchen'. On the contrary, people in Bavaria (the southern region of Germany) don't eat them on New Years at all. No one knows what they're called or when to eat them, but honestly who cares! I'll take one.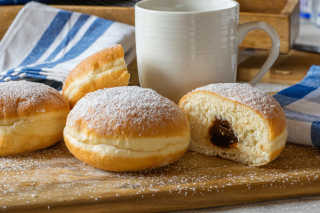 18. Tamarind Balls, Jamaica
Tamarind is a sweet and sour fruit that is native to tropical regions. In Jamaica, tamarind balls are an absolute delicacy. This dessert is made from the sticky flesh of tamarind fruit, which is shaped into balls and then rolled into brown sugar until it is fully coated. The result? A sour, sticky, sweet treat that will be sure to satisfy your sweet cravings!
19. Daimtårta, Sweden
If you've ever eaten at an IKEA food court you're probably familiar with this next dessert. Daimtårta, or otherwise known as a daim cake, is a cake made of almonds and crunchy caramel, coated in milk chocolate. These cakes are so good that you wouldn't expect to be able to buy them frozen in a supermarket, which they are all over Sweden!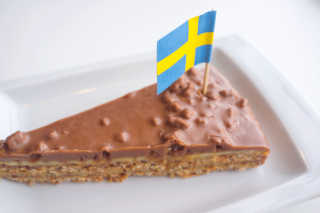 20. Mexican Hot Chocolate, Mexico
A rich, creamy hot chocolate with a hint of spice! This traditional Mexican drink is made of 100% unsweetened cocoa powder, vanilla extract, cinnamon and chili powder- a combination that will make you not want to return to drinking regular hot chocolate from a packet ever again. The ingredients of this hot chocolate, done the Mexican way, is simmered in a saucepan over medium-heat, until all the ingredients are melted into one another. The texture of this hot chocolate is so heavy that you may want to reconsider having anything else beside it.
21. Picarones, Peru
We have another doughnut to add to the list! But this isn't your average doughnut. If you're ever in Peru, find your way to a street vendor to try picarones: a sticky doughnut made of sweet potato flour, tossed into a fryer for extra crisp. These doughnuts are often topped with honey, cinnamon and spices.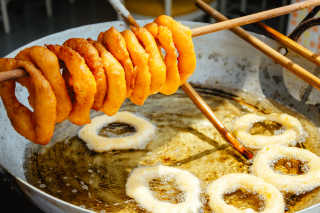 ---
Did you make it to the end of this list without getting hungry? Are you now planning your next trip to try any of these delicious desserts? Compare great flights deals and book with CheapTickets.sg.
---
Want to read more?