Why should I have a travel bucket list?
What's the point of a travel bucket list?
It seems like our lives are normally preoccupied with many other things to do and think about, so why even have such a list to begin with?
To build motivation and regain some of the 'only-me' time that you deserve.
Imagine the feeling of actually arriving at one of the places you've always longed to see in person. That busy mind of yours deserves some time to think about you and to be motivated by the reason why you're currently doing what you're doing. Read onwards as we explain easy tips on how to create your ideal travel bucket list.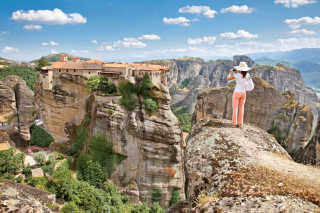 Common questions one might have in regards to starting a travel bucket list
---
How long should I spend to make my travel bucket list?
At least, give your mind some time to enjoy this thinking process: start with 30 minutes and see how it goes. Actually you don't have to spend hours on this. It's totally up to you!
How long should my travel bucket list be?
This also depends on how you start this thinking process. Give yourself a goal: come up with a 'Top 3 / Top 5 / Top 10' list.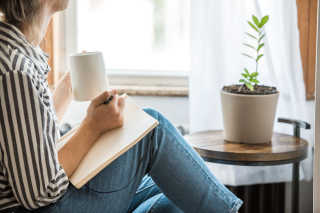 How do I make a travel bucket list?
Here are some ideas on how you can start with your list:
Based on desires: Name the cities you've always wanted to travel and explore in person: how about the beautiful landscape of Cappadocia in Turkey, the astonishing Meteora monastery or beautiful island of Santorini in Greece, experience pure bliss in a villa in the Maldives, or taking a walk around in a kimono in ancient Kyoto, Japan?
Based on hobbies: Do you like sports? Do you like to hike, climb mountains, cycle, dive in the ocean, go camping, or ski/snowboard? Do you like to revisit history? How about visiting museums or art galleries or the city of Barcelona which has many iconic and artistic locations to visit throughout the city?
Based on iconic landmarks: Do you recall any world famous landmarks that made you feel, 'I would like to see that in person!'? How about any of the famous UNESCO Heritage sites in the world or visiting 'the other' duplicate landmark?
Based on themes: How about relaxing and enjoy the sounds of the waves on some of the best beaches in the world? Do you like a particular film or movie and have always wanted to actually visit some of those location spots? We can give you a head start if you love watching 'Star Wars'! Or perhaps you love to listen to K-Pop and want to visit the local restaurants and cafes where your favourite star have dined in Seoul?
Based on season: If you're looking for travel inspiration based on seasonality then maybe a peaceful summer destination in Europe or how about an once-in-a-lifetime Christmas experience during the winter?
Based on influences: Throughout our lives, we come across many 'influences' of an image of a particular place, whether that's through social media or an ad, or perhaps from one of your friends, family relatives, or work colleagues who shared one of their great past travel stories. Did any of those spark your heart and make you also want to travel there, too?
Based on budget: You can even build a separate list based on the distance and budget: Short-haul flights vs long-haul flights.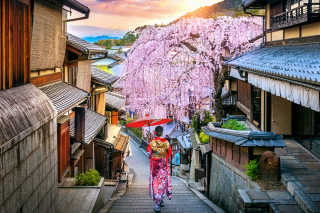 How often should I change my bucket list?
Try to set a certain schedule. For example, look over the travel list every January (beginning of the year) or maybe on your birthday. Build a habit to look over at the list every year on a particular day. Cross out any of the destinations you can cross-out if you travelled there. Reserve some time to think of new destinations that inspired you and you would lie to add your existing list.
Is it bad to have a travel bucket list?
The answer is, 'No' and here are some reasons why:
Nice conversation starter/topic for discussion: Most people has a place or two they can think of wanting to travel one day. Use it (this topic) to understand more about those who are around you and also get them to know more about you.
Learn something about yourself: If you haven't spend time trying to make one before, then this gives you an opportunity to rediscover yourself, as well as, build motivation. Give yourself a 'travel holiday' as your gift for working hard during the year.
Easy to do and you don't need much tools to prepare one: Preparing a travel bucket list is actually quite simple: you just need your mind, reserve some time, and a place to write and keep this list handy (in a notebook or on your mobile device/computer).
Because you're free to do so- the only person stopping you from thinking about it is perhaps yourself!: Go have fun and get lost in your own mind. Whether you have wanderlust or want to just spend half an hour thinking about something else other than what you're doing, just think of all of the places you'll want to visit one day. Then you may influence others to also want to travel there!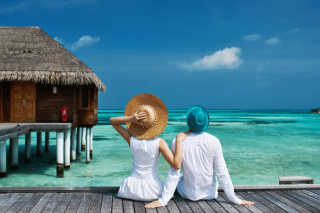 Of course a reason to go somewhere can have various reasons, including maybe that your need to travel to a certain destination for personal reasons, but another take is that you 'want' to explore these other destinations in the world purely because you feel a 'spark' in your heart that attracted you to them.
Now that you've read this far, here are a few quick action points to follow (before you start occupying your mind with other thoughts):
Check your schedule/set a 30-min break (could be longer)
Pick up a writing tool or start typing away
(AND VOILA) You have your very own travel bucket list!
So when you feel like it's time to travel again, then this is the time to look through your list of dreamy destinations. Try to see if your feelings are still the same then choose one of those places so you can check that place off when you're back. Don't forget to check and compare for great domestic and international flight deals and book your next flight with CheapTickets.sg.
Wishing you a Happy 'Me' Time!
---
Want to read more travel tips?