Long Weekend Public Holidays Singapore 2021
2021 Long Weekend Public Holidays - Singapore
Every year, we all look forward to our precious stash of gazetted public holidays - after all, these free days off are our tickets to a well-deserved break from our otherwise hectic schedule!
Official 2021 Public Holiday Dates List:
Legend:
Red: Public Holiday
Blue: Take day off
---
Read on for some getaway destinations ideas and tips to maximize your long weekends as much as possible.
1. New Year's Day: 1 January 2021 (Friday)
New year, new beginning (please)! It's a little optimistic but hopefully, more countries would have reopened their borders and we would be able to kickstart our holiday plans for the year. New Year's falls on a Friday and we know what that means - 2021's first long weekend public holiday!
Jet off to these nearby cities for a short break as we welcome the new year - shop the best deals in Kuala Lumpur, go scuba diving in Langkawi or trek along Ho Chi Minh's many nature landscapes.
Take a break of: 3 days
Destination Ideas: Langkawi, Kuala Lumpur, Ho Chi Minh
2. Chinese New Year: 12 & 13 February 2021 (Friday & Saturday)
This 3-day long weekend is just enough for you to soak up some vitamin sea. Head on to these hidden relaxing beach destinations and get away from the tourist crowds. Here, you can either get a tan or get your adrenaline pumping with these exciting water activities - white water rafting, jet-skiing, parasailing, the list goes on.
Take a break of: 3 days
Destination Ideas: Krabi, Palawan, Cebu
3. Good Friday: 2 April 2021 (Friday)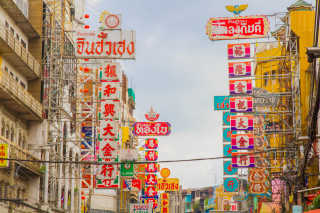 Hooray, another long weekend is here! This time, feast your way through these Asia foodie destinations. Indulge in some authentic Thai milk tea along Bangkok's streets or get your fill on Penang's divine street food wok hei.
Take a break of: 3 days
Destination Ideas: Penang, Bangkok, Hong Kong
4. Labour Day: 1 May 2021 (Saturday)
"March winds and April showers bring forth May flowers."
This spring, enjoy a serene view of beautiful blooming flower fields. Head on down to Lisse, Amsterdam and witness the blooming of Keukenhof's 7 million tulip bulbs. For a nearer travel option, the cherry blossoms will almost be reaching full bloom in Sapporo, Japan* then.
*Forecast is based on 2020 sakura blooming dates and is subject to change.
Disney fans, here's one just for you - Disney World's Epcot International Flower and Garden Festival has been a tradition since 1994 and once here, you can snap a picture with different character topiaries and outdoor gardens sprinkled all around Disney World.
#CTSGTip: Take 28 - 30 April (Wednesday - Friday) off
Take a break of: 5 days
Destination Ideas: Lisse, Orlando, Sapporo
5. Hari Raya Puasa: 13 May 2021 (Thursday)
Craving for a longer holiday? May is the perfect time to visit your otherwise popular summer (June - August) destinations. Not only can you beat the usual tourist crowds, you just might save on off-peak flight and attraction tickets as well!
#CTSGtip: It's time to check Greece off your bucket list! In May, the islands of Greece provide an escape from Singapore's humid weather with their aircon-like temperatures of around 22°C. Here, visit popular tourist hotspots such as Santorini, Athens and Crete, sans tourists! Stroll around authentic local marketplaces or tan at sunny local beaches without bumping shoulders - doesn't that sound amazing?
CTSGTip: Take 14 May (Friday), 17 - 19 May (Monday - Wednesday) off
Take a break of: 7 days
Destination Ideas: Athens, Rome, Peru
6. Vesak Day: 26 May 2021 (Wednesday)
The shopping season is upon us! Head on over to these top shopping destinations and treat yourself to a new wallet or a pair of new kicks, maybe?
#CTSGTip: Take 27 & 28 May (Thursday & Friday) off
Take a break of: 5 days
Destination Ideas: Tokyo, Seoul, Dubai
7. Hari Raya Haji: 20 July 2021 (Tuesday)
With a 4 day break, spend some quality time with your family and friends in these nearby destinations with activities that are bound to be fun for all. Go island hopping in the Philippines, pamper yourselves in one of Maldives' luxurious resorts or just embrace your inner child at Shanghai Disneyland.
#CTSGTip: Take 19 July (Monday) off
Take a break of: 4 days
Destination Ideas: Cebu, Male, Shanghai
8. National Day: 9 August 2021 (Friday)
Here's the last 3-day long weekend of 2021 and let's make it count! Jet off to these Southeast Asia destinations for some last minute feasting and shopping if you have not.
Take a break of: 3 days
Destination Ideas: Kuala Lumpur, Phuket, Koh Samui
9. Deepavali: 4 November 2021 (Thursday)
Hop on over to the land down under in November, right before their summer season starts. Take a road trip down the Great Ocean Road, embrace your adventurous spirit in Darwin or visit iconic Sydney sights like the Opera House - there's so much to do in Australia!
The neighbouring New Zealand has much to offer as well, though it might be slightly warmer there. Here, explore Waitomo's famous glow worm caves or immerse yourself in Auckland's bustling metropolis ambience.
#CTSGTip: Take 3 November (Wednesday) & 5 November (Friday) off
Take a break of: 5 days
Destination Ideas: Sydney, Melbourne, Auckland
10. Christmas Day: 25 Dec 2021 (Saturday)
While it means using up more leave days, these stunning winter destinations will prove you made the right decision.
With such a long holiday, it's time to trade up your single flight ticket. Many cities in Europe are well-known for their Christmas markets, winter scenery and ski resorts - instead of staying in a city for the whole duration, do consider visiting several instead. For instance, did you know that Prague is just a 4 hour train ride away from Vienna? Go from visiting one of Europe's best Christmas markets to enjoying impressive Advent and Christmas concerts in the City of Music.
#CTSGTip: Take 27 - 31 December (Monday - Friday) off
Take a break of: 9 days (wow)
Destination Ideas: London, Prague, Vienna, New York
Psst...You get an extra day off due to the New Year's Day holiday on 1 January 2022.
There you have it folks, a handy guide to travelling during 2021's long weekend public holidays. What are you waiting for? Start planning your holiday and search cheap flights on CheapTickets.sg today!